By Anuradha Dhar/CIMMYT
NEW DEHLI, India (April 22, 2016)-Ram Kanwar Malik, a senior agronomist in the Sustainable Intensification Program at the International Maize and Wheat Improvement Center (CIMMYT) based in Bihar, India, is the winner of the 2015 Derek Tribe Award for his outstanding contributions to making a food secure world by improving and sustaining the productivity of the rice-wheat system of the northwestern and eastern Indo-Gangetic Plains.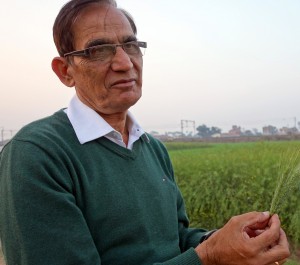 The Derek Tribe Award, given by the Australia-based Crawford Fund, is made biennially to a citizen of a developing country in recognition of their distinguished contributions to the application of research in agriculture in a developing country.
The prestigious award recognizes Malik's more than 30 years of work in agricultural research and development dedicated to improving the livelihoods of millions of small-scale and marginal farmers in India. Malik was a pioneer promoter of zero tillage to sow wheat, in rice-wheat cropping zones of northern India—initially to control infestations of the weed, Phalaris minor. The approach, which involves seeding wheat directly into residues of the preceding rice crop, is used on 2 million hectares throughout South Asia's rice-wheat cropping belt and in a recent report was shown to increase the annual incomes of farmers in Bihar, India, by an average of 6 percent.
Malik's collaborative work with national and international partners and farmer participatory approaches have also fostered the adoption of climate-resilient technologies such as precision land leveling and direct-seeded rice, as well as policy changes in support of these and other resource-conserving practices.
Malik currently serves as the country coordinator for India for the CIMMYT-led sustainable intensification project, Cereal Systems Initiative for South Asia (CSISA). He continues to raise productivity and smallholders' incomes in the eastern states of Bihar, Uttar Pradesh and Odisha, areas where rural poverty, food insecurity and yield gaps of cereal staples are among the most severe in South Asia.
Highlighting his life-long passion for understanding the needs of farmers and for ensuring farmers' participation in research, Malik said, "For developing countries like India where farmers are small and marginalized and investment in research is low, the development of new technologies and the process of delivery are inseparable. In fact, a top-down approach could put up barriers to the adoption of new technologies. Listening to farmers and tailoring technologies to serve their needs thus become paramount."
Read the full announcement from The Crawford Fund here.
Read the full announcement from CIMMYT here.