Cranking, a thing of the past
In Bangladesh, a newly available device takes the hassle out of starting the engine of two-wheel tractors, particularly for women entrepreneurs.
This post was originally published on cimmyt.org on July 10, 2019 by M. Shahidul Haque Khan and Sultana Jahan.
Halima Begum wanted to increase her income by providing mechanization services to other farmers in Bangladesh's Chuadanga district, but she was limited by the level of physical effort required. Starting the engine of her tractor was difficult and embarrassing — cranking it required a lot of strength and she had to rely on others to do it for her. She was also afraid she would get injured, like other local service providers.
Women in rural areas of Bangladesh are often hesitant to work in the fields. Social norms, limited mobility, physical exertion, lack of time and other constraints can cause aspiring female entrepreneurs to step back, despite the prospect of higher income. The few women like Halima who do step out of their comfort zone and follow their dreams often have to overcome the physical effort required to operate these machines.
Starting the tractor is a daunting task on its own and the possibility of having to do it multiple times a day adds to the reluctance of ownership.
To make manual cranking a thing of the past for Bangladeshi women entrepreneurs, and to encourage others, the International Maize and Wheat Improvement Center (CIMMYT), through the Cereal Systems Initiative for South Asia-Mechanization and Irrigation (CSISA-MI), is supporting small businesses who manufacture and sell affordable mechanical self-starter attachments for two-wheel tractors.
The self-starter is a simple spring-loaded device mounted over the old crank handle socket, which allows users to start the engine with the flick of a lever.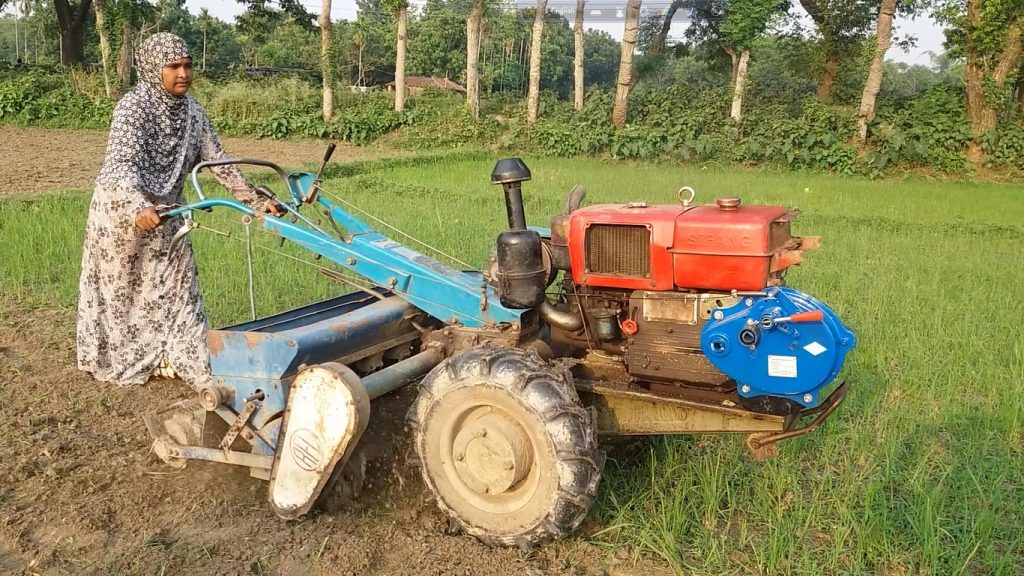 For women like Begum, manually starting a tractor was a difficult task that is now gone forever.
"I used to struggle quite a lot before, but now I can easily start the machine, thanks to this highly convenient self-starter," Begum said.
The self-starter reduces the risk of accidents and coaxes hesitant youth and women to become entrepreneurs in the agricultural mechanization service industry.
CIMMYT is supporting businesses like Janata Engineering, which imports self-starter devices and markets them among local service providers in the district of Sorojgonj, Chuadanga district. The project team worked with the owner, Md. Ole Ullah, to organize field demonstrations for local service providers, showing how to use and maintain the self-starter device.
The Cereal Systems Initiative for South Asia-Mechanization and Irrigation (CSISA-MI) is led by the International Maize and Wheat Improvement Center (CIMMYT) and funded by the United States Agency for International Development (USAID). The project focuses on upstream market interventions in Bangladesh, ensuring technologies are reliably available in local markets and supported by an extensive value chain.
---
Related tags