Advice for India's rice-wheat farmers: Put aside the plow and save straw to fight pollution
By Mike Listman/CIMMYT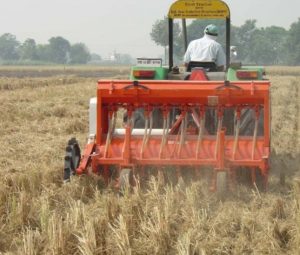 EL BATAN, Mexico (November 28,2016) – Recent media reports show that the 19 million inhabitants of New Delhi are under siege from a noxious haze generated by traffic, industries, cooking fires and the burning of over 30 million tons of rice straw on farms in the neighboring states of Haryana and Punjab.
However, farmers who rotate wheat and rice crops in their fields and deploy a sustainable agricultural technique known as "zero tillage" can make a significant contribution to reducing smog in India's capital, helping urban dwellers breathe more easily.
Since the 1990s, scientists at the International Maize and Wheat Improvement Center (CIMMYT) have been working with national partners and advanced research institutes in India to test and promote reduced tillage which allows rice-wheat farmers of South Asia to save money, better steward their soil and water resources, cut greenhouse gas emissions and stop the burning of crop residues.
The key innovation involves sowing wheat seed directly into untilled soil and rice residues in a single tractor pass, a method known as zero tillage. Originally deemed foolish by many farmers and researchers, the practice or its adaptations slowly caught on and by 2008 were being used to sow wheat by farmers on some 1.8 million hectares in India.
Click here to read more about how scientists and policymakers are promoting the technique as a key alternative for residue burning and to help clear Delhi's deadly seasonal smog.
---
Related tags