Partner Institutions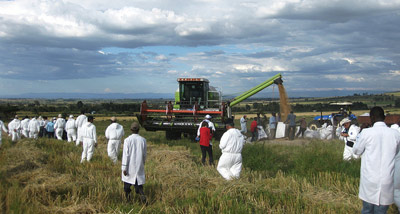 WHEAT is built on strong, long-established partnerships, bringing together ICARDA and CIMMYT partner networks and integrating a wide range of partner institutions around the world. Currently, WHEAT is collaborating with more than 200 partners:
• NARS: 86
• Universities: 56
• ROs and IOs:13
• ARIs: 15
• Private sector: 15
• NGOs and CBOs:14
• CG host countries: 20
WHEAT is furthermore one out of few CRPs that engages in Competitive Partner Grants – an initiative to fill existing research gaps in our portfolio by funding highly competent external researchers selected through a competitive process.
Between 20 – 30 percent of total CRP Budget go to our research and development partners. Furthermore, we aim to integrate partners into strategy development – WHEAT aims to continuously monitor and cater to our partner's needs.
We commit to making WHEAT a strong link – bringing together competence around the world to work for sustainable improved livelihoods and a better tomorrow.
National agricultural research institutes
Albania, ATTC-Lushnje
Argentina, INTA
Azerbaijan, Institute of Genetic Resources
Azerbaijan, Azeri Research Institute of Farming
Bangladesh, Bangladesh Agricultural Research Institute (BARI)
Bangladesh, Agricultural Research Council (BARC)
Brazil, EMBRAPA
China, Chinese Academy of Agricultural Sciences
China, Dryland Farming Institute
China, Gansu Academy of Agricultural Science
China, Heilongjiang Academy of Agricultural Science
China, Henan Academy of Agricultural Science
China, Ningxia Academy of Agricultural Science
China, Shandong Academy of Agricultural Science
China, Sichuan Academy of Agricultural Sciences
China, Xinjiang Academy of Agricultural Science
China, Yunnan Academy of Agricultural Sciences
China, Zhoukou Academy of Agricultural Science
Ecuador, INIAP
Egypt, Agricultural Research Council (ARC)
Ethiopia, Ethiopian Institute of Agricultural Research (EIAR)
India, Agharkar Research Institute
India, CSSRI
India, Directorate of Wheat Research (DWR)
India, Indian Council of Agricultural Research (ICAR)
India, Indian Agricultural Research Institute (IARI)
Indonesia, Indonesian Cereals Research Institute (ICERI)
Iran, Agricultural Biotechnology Research Institute of Iran (ABRII)
Iran, Agricultural Engineering Research Institute (AERI)
Iran, Agricultural Research, Education and Extension Organization (AREEO)
Iran, Dryland Agricultural Research Institute (DARI)
Iran, Iranian Research Institute for Plant Protection (IRIPP)
Iran, Seed and Plant Improvement Institute (SPII)
Iran, Soil and Water Research Institute (SWRI)
Iraq, Ministry of Sciences and Technology
Iraq, Mosul State Board for Agricultural Research
Jordan, National Center for Agricultural Research and Extension
Kazakhstan, Aktobe Agricultural Research Station
Kazakhstan, Karabalyk Agricultural Research Station
Kazakhstan, Kazakh Institute of Plant Protection
Kazakhstan, Karaganda Agricultural Research Institute
Kazakhstan, Pavlodar Agricultural Research Institute
Kazakhstan, Kazakh Research Institute of Farming
Kenya, Kenya Agricultural Research Institute (KARI)
Lebanon, Rayak Agricultural Research Institute
Mexico, CINVESTAV
Mexico, FIRA
Mexico, Instituto Nacional de Investigaciones Forestales,
Agricolas y Pecuarias (INIFAP)
Morocco, INRAM
Nepal, Agriculture Botany Division, NARI
Nepal, Department of Agriculture
Nepal, Nepal Agricultural Research Council (NARC)
Pakistan, Ayub Agricultural Research Institute
Pakistan, Pakistan Agricultural Research Council (PARC)
Pakistan, Nuclear Institute of Agriculture
Pakistan, Nuclear Institute of Food and Agriculture
Pakistan, Wheat Research Institute, Sakrand, Sindh Province
Pakistan, Agriculture Research Institute, Quetta, Balochistan
Pakistan, Cereal Crops Research Institute, Pirsabak, Khyber Pakhtoonkhwa
Pakistan, Azad Kashmir Department of Agriculture
Philippines, PCAARD
Republic of Korea, Rural Development Administration
Romania, National Agricultural Research and Development Institute, Fundulea
Russia, Altay Agricultural Research Institute
Russia, Chelyabinsk Agricultural Research Institute
Russia, Kurgan Agricultural Research Institute
Russia, Siberian Agricultural Research Institute
Russia, Samara Agricultural Research Institute
Sudan, Agricultural Research Corporation (ARC)
Tajikistan, RNCGR
Tanzania, Ministry of Agriculture
Turkey, Aegean Agricultural Research Institute
Turkey, Transitional Zone Agricultural Research Institute
Turkey, Bahri Dagdas Agricultural Research Institute
Turkey, Central Field Crop Research Institute
Turkey, Sakarya Agricultural Research Institute
Turkey, South East Anatolian International Agricultural Research Institute
Turkey, Trakya Agricultural Research Institute
Turkmenistan, Turkmen Research Institute of Grain
Tunisia, Institut National de la Recherche Agronomique de
Tunisie (INRAT)
Tunisia, Institut National des Grandes Cultures (INGC)
Uganda, National Agricultural Research Organization (NARO)
Ukraine, NCPGRU, Ukraine
Uruguay, INIA-La Estanzuela
Uzbekistan, Karshi Agricultural Research Institute
USA, USDA-ARS
Regional and international organizations
Universities
China, Yangling, Shaanxi, Northwestern Agroforestry Science and Technology University
India, Bhatinda, Punjab Agriculture University (PAU)
India, Kushinagar, KVK, IIVR
Tunisia, Institut National Agronomique de Tunis (INAT)
Advanced research institutes
Canada, Field Crop Development Center
Hungary, Research Centre for Agrobotany
Turkey, Adana plant protection research institute
Private sector organizations
Australia, Diversity Arrays Technology Pty. Ltd. (DArT)
China, Limagrain China
France, Club 5 = Eurodur + Syngenta + Deprez + Serasem + Limagrain
Germany, BASF
Germany, KWS
India, Mahyco
Mexico, JCo Fertilizer
Italy, Produttori Sementi Bologna
Kazakhstan, "Fiton" Breeding Company
Mexico, Grupo Produce Estado de Mexico A.C.
Mexico, Impulsora Agrícola S.A. de C.V.
Mexico, Industrias Vazquez
Mexico, Grupo Agrocime
Spain, Agrovegetal
Switzerland, Syngenta
UK, KBiosciences
USA, Agripro (Syngenta)
USA, Pioneer Hi-Bred Intl.
USA, Monsanto
USA, Perfect Blend
Non-governmental and farmer cooperative organizations
India, Sathguru
Mexico, COFUPRO
Mexico, Fundación Produce Sonora A.C.
Mexico, Fundación Produce Edo. de Mexico, A.C.
Mexico, Cd. Obregón, Sonora, AGROASEMEX
Mexico, Cd. Obregón, Sonora, AOASS
Mexico, Sonora, Patronato para la Investigación y
Experimentación Agrícola del Estado de Sonora, AC
Mexico, Cd. Obregón, Sonora, Sistema Producto
Mexico, Ejido Nuevo León, B.C., UABC
Mexico, Cd. Obregón, Sonora, USPRUSS
Nepal, International Development Enterprises
USA, Hockaday School