How We Work
Organization
The management of WHEAT is based on principles defined in the CGIAR  Strategic Research Framework and standard performance contract. Partners and inter-institutional teams focus on research driven by stakeholder priorities.
WHEAT activities and projects are grouped into Flagship Projects (FPs) that range from advanced research to delivery and focus on low- and middle-income wheat-producing countries of East Asia, South Asia, Central and West Asia and North Africa (CWANA), sub-Saharan Africa and Latin America. The participation and engagement of regional and local partners underpin the projects' success. WHEAT is coordinated in collaboration with regional Steering Committees.
Governance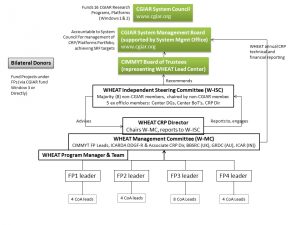 The Management Committee (MC) is the executive working committee of WHEAT. Directors and program leaders from relevant institutional research centers and primary research partners oversee implementation of the WHEAT research agenda within their institutions.
The Independent Steering Committee helps set priorities and implement and review research-for-development. They do not have
contractual arrangements.
CIMMYT, through its Board of Trustees and director general, is responsible for the program's successful management and implementation. CIMMYT's Board of Trustees also has the fiduciary and legal responsibility and accountability for implementing WHEAT.
As WHEAT moves into its second phase, the CRP is operationalizing its theories of change and taking steps to foster a culture of results based management, a management strategy focusing on performance and achievement of outputs, outcomes and impacts. WHEAT's results based management framework for Phase II links research to the CGIAR's strategic results framework for 2016-2030 and illustrates how wheat science can contribute to the longer term development impacts of improved food security, reduced poverty and improved use of natural resources.
Results-based management
WHEAT's RBM framework lays out a specific approach for the program to monitor progress, make decisions based on evidence, and learn and adapt continually.  The framework outlines the theories of change underlying the WHEAT CRP and sets out a plan to measure, monitor and report on results throughout the life cycle of the research program.  This document also includes scheduled evaluations and learning activities. The RBM framework outlines plans for:
Governance structure and roles and responsibilities
CRP and flagship project theories of change (including risks and assumptions)
Monitoring of CRP outputs (Knowledge, technical or institutional innovations produced by WHEAT research, engagement and/or capacity development activities)
Monitoring progress on an annual basis towards CRP 2022 outcomes (A change in knowledge, attitudes, skills, and/or relationships, manifest as a change in behavior, that result in whole or in part from WHEAT research and its outputs)
Measurement of CGIAR-wide common indicators
Evaluation plan
Planning and Reporting Cycle
Learning strategy
Tools to support RBM
For more details, click here to download the December 2017 version (pdf) of the Results-based Management Framework for WHEAT.