Bangladesh leads the way in global fight against wheat blast
An ongoing project was praised for its swift progress in the fight against wheat blast in Bangladesh and South Asia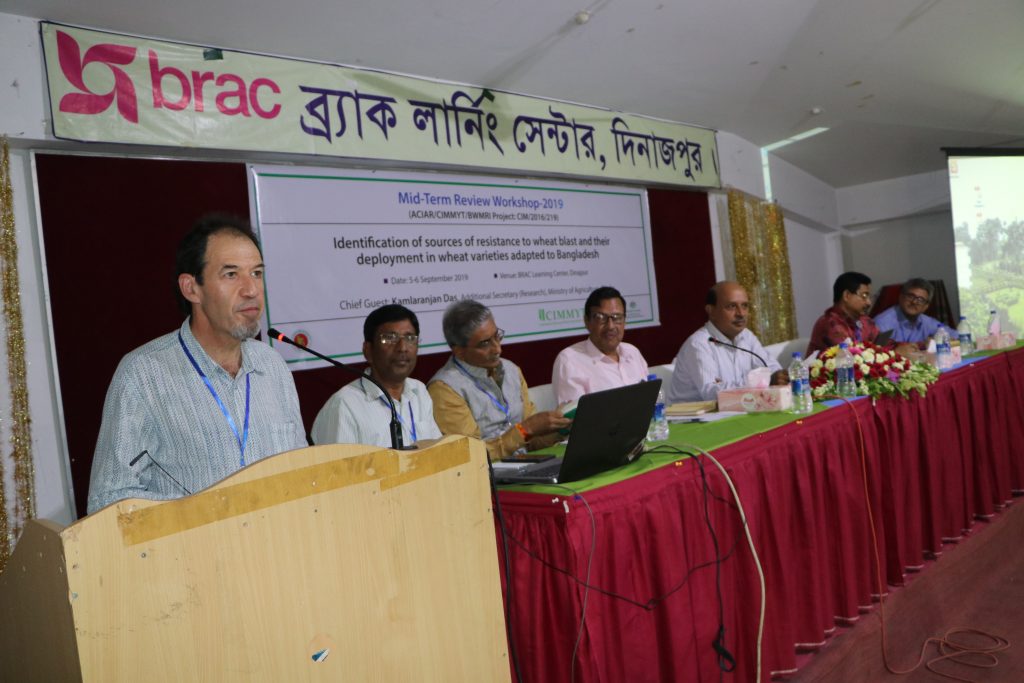 At a mid-term review event last month at the BRAC Learning Centre in Dinajpur, Bangladesh, professionals from the Bangladesh Ministry of Agriculture, the Bangladesh Wheat and Maize Research Institute (BWMRI), the Bangladesh Agriculture Research Institute (BARI), the Department of Agriculture Extension (DAE), the Krishi Gobeshona Foundation (KGF), the Bangladesh Agriculture Development Corporation (BADC) and the International Maize and Wheat Improvement Center (CIMMYT) discussed progress made in the battle against wheat blast in Bangladesh and South Asia.
Wheat blast is a fast-acting and devastating fungal disease that threatens wheat production and food security in South America and South Asia. The disease, which originated in South America and first appeared in Bangladesh in 2016, can by dispersed by wind across large distances and spores can be seed borne. There is deep concern among scientists that the disease could spread further across South Asia. A 2018 ex-ante analysis found that in Bangladesh, India and Pakistan wheat blast could potentially cause losses of 0.89 – 1.77 million tons each year, with 7 million hectares of growing area at risk.
In 2017, CIMMYT, BWMRI and the Instituto Nacional de Innovación Agropecuaria y Forestal (INIAF) in Bolivia joined forces in an international effort to tackle wheat blast through widespread adoption of blast resistant wheat varieties.
The project, funded by the Australian Centre for International Agricultural Research (ACIAR) addresses wheat blast in Bangladesh and South Asia through the identification of new sources of resistance genes for wheat blast and development of wheat blast resistant varieties. The germplasm, genes and markers, and genetic information developed through the project are shared with South Asian national wheat breeding programs and other researchers, finally ending up in farmers' fields as resistant varieties.
The review meeting was chaired by BWMRI Director General Israil Hossain, and featured remarks by Bangladesh's Additional Secretary of the Ministry of Agriculture Kamala Ranjan Das.
"This project has over-delivered on its milestones," said Eric Huttner, ACIAR Research Program Manager and lead of the review. "It's very likely that the project will reduce the risk of blast on wheat production in Bangladesh."
Early impacts in terms of research capacity and infrastructure are very clear:
The project-established precision phenotyping platform in Jashore — the first of its kind in Bangladesh and the region — is running at full capacity, screening for blast in wheat germplasm materials from as far away as China, the United States and Europe. The facility currently has the capacity to evaluate almost 5,000 wheat germplasm materials per season and there are ongoing plans for expansion and improvement.
Sixty-nine researchers and development professionals, including 9 women, have benefited from the capacity development activities.
Molecular research is also making progress. Pawan Singh, project leader and head of Wheat Pathology at CIMMYT, noted that the rapid response was possible due to collective and collaborative action by research partners in this project and beyond.
Meeting attendees emphasized the urgency and importance of the project, which is set to conclude in 2021, in the battle against a fast-moving and devastating disease.
As Huttner told attendees, "Now the resistant or tolerant materials need to be efficiently deployed for breeding high-performance wheat varieties that reach stakeholders as early as possible."
The Identification of sources of resistance to wheat blast and their deployment in wheat varieties adapted to Bangladesh project is funded by the Australian Centre for International Agricultural Research, with Bangladesh Wheat and Maize Research Institute and the National Institute of Agricultural and Forestry Innovation as key partners. More information about the project can be found on the project factsheet.
---
Related tags