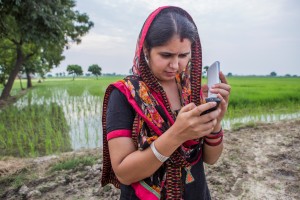 By Katie Lutz/CIMMYT
NEW DEHLI, India (May 5, 2015)- In India, the belief is that wheat farming is mainly the domain of men.
But women do in fact play an important role in wheat production, according to a recent blog post by agricultural economist Surabhi Mittal and research associate Vinod Hariharan, both of CIMMYT. Entitled Enhancing the Capacity of Farm Women, their post featured on Agriculture Extension in South Asia.
"In India as per the agricultural census, one third of the agricultural cultivators, both farmers and laborers are women," said Mittal and Hariharan. "Their participation in agriculture is rapidly increasing because of multiple factors but the prime reason is out-migration of male members of the family in search of alternative avenues for income, thus leaving the women of the household to be fully involved in agriculture."
Mittal and Hariharan's information is based on ongoing research under the Global Study on Gender Norms, Agency and Innovation in Agriculture and Natural Resource Management project funded by WHEAT and activities in India under a CIMMYT-CCAFS led project. The study discusses women's roles in agriculture, the role of women in decision making at home and in the farms and why these roles are important for the advancement of agriculture.
Read the full blog post here to discover more about Mittal and Hariharan's research.