Farmers in Pakistan benefit from new zinc-enriched high-yielding wheat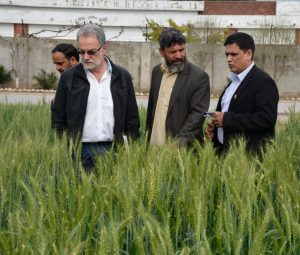 By Mike Listman/CIMMYT
ISLAMABAD, Pakistan (June 30, 2017) – Farmers in Pakistan are eagerly adopting a nutrient-enhanced wheat variety offering improved food security, higher incomes, health benefits and a delicious taste.
Known as Zincol and released to farmers in 2016, the variety yields harvests as high as other widely grown wheat varieties, but its grain contains 20 percent more zinc, a critical micronutrient missing in the diets of many poor people in South Asia.
Due to these benefits and its delicious taste, Zincol was one of the top choices among farmers testing 12 new wheat varieties in 2016.
"I would eat twice as many chappatis of Zincol as of other wheat varieties," said Munib Khan, a farmer in Gujar Khan, Rawalpindi District, Punjab Province, Pakistan, referring to its delicious flavor.
Khan has been growing Zincol since its release. In 2017, he planted a large portion of his wheat fields with the seed, as did members of the Gujar Khan Seed Producer Group to which he belongs.
The group is one of 21 seed producer associations established to grow quality seed of new wheat varieties with assistance from the country's National Rural Support Program (NRSP) in remote areas of Pakistan. The support program is a key partner in the Pakistan Agricultural Innovation Program (AIP), led by the International Maize and Wheat Improvement Center (CIMMYT) and funded by the U.S. Agency for International Development.
"Over the 2016 and 2017 cropping seasons, 400 tons of seed of Zincol has been shared with farmers, seed companies and promotional partners," said Imtiaz Muhammad, CIMMYT country representative in Pakistan and a wheat improvement specialist.
Zincol resulted from the CIMMYT's "biofortification" breeding research, focused on enhancing nutrient levels in the grain of key food crops. Scientists develop biofortified crops using diverse genetic resources, including wheat landraces and wild relatives with the genetic potential to accumulate zinc in the grain.
Genes for enhanced grain zinc content from those sources are crossed into adapted, high-yielding varieties, over repeated cycles of selection involving many thousands of plants.
"One year after the release of Zincol, wheat farmers on more than 320 hectares are sowing the variety," Imtiaz said.
He also noted that 15 tons of Zincol seed was shared free of charge for testing with 600 farm families in Sukkar District, Sindh Province, through an initiative of World Vision-Canada and HarvestPlus, a CGIAR research program dedicated to the study and delivery of biofortified foods.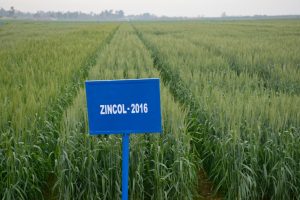 Wheat: Vehicle for enhanced nutrition
Pakistan produces more than 25 million tons of wheat a year. The country has an annual per capita consumption averaging around 124 kilograms — among the highest in the world and providing over 60 percent of inhabitants' daily caloric intake. The staple wheat-based foods are chappatis or a flat bread baked on the walls of large, cylindrical clay ovens.
Particularly in remote areas of Pakistan, human diets too often lack essential micronutrients such as zinc. According to a 2011 nutrition survey, 39 percent of children in Pakistan and 48 percent of pregnant women suffer from zinc deficiency, leading to child stunting rates of more than 40 percent and high infant mortality.
Zinc deficiency is also known to cause diarrheal disease, lower respiratory tract infections, malaria, hypogonadism, impaired immune function, skin disorders, cognitive dysfunction and anorexia, according to the World Health Organization.
"Given its role as a key food staple, wheat with enhanced levels of zinc and other micronutrients can contribute to better nutrition," said Velu Govindan, a CIMMYT wheat breeder who specializes in biofortification and helped develop Zincol.
"Zincol also carries the genetic background of NARC 2011, a popular, high-yielding Pakistan wheat variety that resists wheat stem rust, a deadly disease that threatens wheat worldwide," Govindan added.
As part of AIP and HarvestPlus, as well as with numerous public and private partners and farmer seed production groups in Pakistan, CIMMYT is leading the extensive evaluation, distribution and seed production of Zincol, said Krishna Dev Joshi, a former CIMMYT wheat improvement specialist who worked on the project.
"With modest resources and limited amounts of seed, we tested and promoted Zincol over the last two years in Balochistan, Punjab, and Sindh, covering 15 districts and engaging nearly 700 farmers," Joshi explained.
Joshi said farmer seed producers and private seed companies were able to provide another 100 tons of seed in 2016, enough to sow more than 2,500 hectares in 2017 and over half a million hectares in 2018.
"Zincol reached farmers nine years after the initial breeding cross in 2007, several years more quickly than is the norm in Pakistan, partly because it was tested simultaneously in national and provincial trials," Joshi added. "Zincol is part of a suite of new, micronutrient-enhanced wheat varieties bred by CIMMYT and partners for use in South Asia, a region whose inhabitants consume 100 million tons of wheat each year."
For India, Govindan and partners created a new biofortified wheat variety using synthetic parents crossed onto WH1105, a CIMMYT-derived high-yielding variety grown in India's Northwestern Gangetic Plain Zone. The new variety out-yields other popular varieties by as much as 8 percent and has a 20 percent higher zinc content, as well as good resistance to yellow rust disease. Another new Indian variety, Zinc Shakti, has a 40 percent greater grain zinc content and is being marketed by the private sector.
---
Related tags