"Five-in-five" profiles of wheat research leaders present areas to address to deliver tangible change for women in global wheat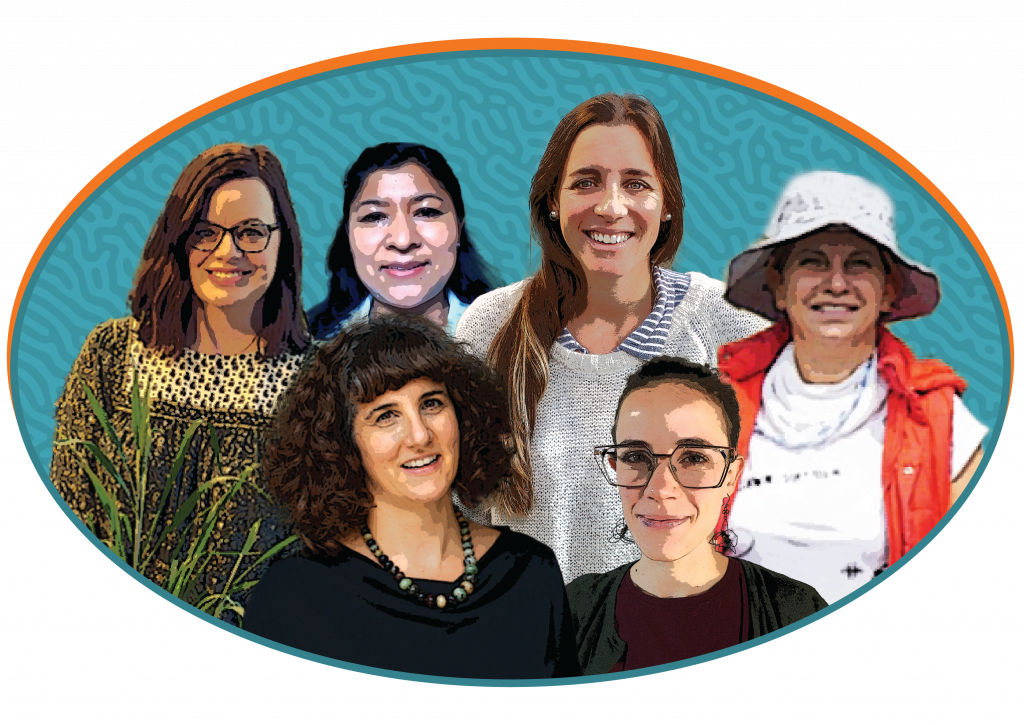 To mark International Women's Day, women from the International Maize and Wheat Improvement Center (CIMMYT) Global Wheat Program met with inspiring women in the global wheat research community. In addition to highlighting the work of these leaders in science, breeding and strategy, these conversations identified five key areas to be addressed over the next five years.
Defining these "five-in-five" represents the first step in a movement towards a more diverse, inclusive and productive global wheat community.
The second blog in our "five-in-five" series on women in global wheat focuses on the actions that institutions can take to ensure that their company practices are inclusive, equitable and enabling environments for women to do their best work. Women from CIMMYT and Cornell University, Washington State University, Kansas State University and the Institute for Agricultural Research (INIA) in Uruguay discussed positive steps, including trainings to dissolve gender biases, revised hiring and promotion policies, and honest publication of gender pay gaps. Our participants highlighted the gap that remains in women's leadership in the global wheat (and crop science) community, emphasizing that further action is required to review and improve enablers of inclusion.
Beyhan Akin, senior wheat breeder at CIMMYT, asked Hale Ann Tufan, a research professor jointly appointed in the Departments of Global Development and Plant Breeding and Genetics at Cornell University, about how to create gender-responsive agricultural research systems through curriculum development and training.
Tufan received the Norman Borlaug Field Award for incorporating gender-supportive activities within the global agricultural research community. Tufan's work involves building priority-setting frameworks for breeding programs that incorporate gender research, leading gender research and on-farm testing for crop improvement projects, developing curriculum and gender training programs for plant breeders and building seed systems that empower women farmers. In 2010, she earned the inaugural Women in Triticum (WIT) award. In her daily work, she strives to challenge historical inequities in agricultural research, and works across disciplines to ensure women farmers and scientists are fairly represented in the lab, in the field, and at the table. She hopes that the power and politics of crop improvement programs are examined critically to ensure more inclusive and just research systems emerging in the next five years.
Maria Itria Ibba, head of the Wheat Chemistry and Quality Laboratory at CIMMYT, spoke to Karen Sanguinet, an assistant professor in the Department of Crop and Soil Sciences at Washington State University, about some of the sources of discrimination within the scientific community.
Sanguinet, whose research focuses on wheat climate resilience and the role of the root system, is frustrated that women still receive lower salaries than men and have additional challenges in securing funding for their research. More specifically, Sanguinet studies the effect that different biotic and abiotic stresses have on the production and accumulation of aromatic compounds in roots. She also identifies strategies to mitigate soil compaction, employing multi-level genomics, transcriptomics and gene-discovery to improve farmers' production of their crops. She hopes that in five years, more actions will be taken to offset discrimination, and that the value provided by greater inclusion of women and other underrepresented groups will finally be acknowledged and accepted.
Araceli Torres Garciá is Head of the Wheat Physiology Lab at CIMMYT's experimental station in Obregon, Mexico. She spoke to Paula Silva, a research scientist at Kansas State University and the Institute for Agricultural Research (INIA) in Uruguay about the importance of mentorship for young women scientists.
Silva's work focusses on wheat genetics and genomics. She explores new sources of disease resistance from wild species to increase genetic diversity and is also improving the tools used to find resistance, such as state-of-the-art phenotyping and genotyping devices. In addition to her KSU role she co-ordinates Uruguay's precision wheat phenotyping platform in collaboration with CIMMYT. In 2020, she earned the Women in Triticum (WIT) award from the Borlaug Global Rust Initiative. Silva is passionate about research, and hopes to be a positive example for women in areas of the world with greater gender disparity in wheat research, promoting the message that women have a strong role to play in science, as well as in production and preparation of wheat for self-consumption. She wants to continue seeing women in leadership roles and believes that by bringing together different perspectives, they can make important contributions to achieving diverse, strong and productive teams.
Stay tuned for more profiles and conversations all this week as part of this five-in-five series.