Five-in-Five Blog Series: #4 Recognizing the role of women in developing policies and practices that are gender inclusive
The "Five-in-five" profile series highlights wheat research leaders delivering tangible change for women in global wheat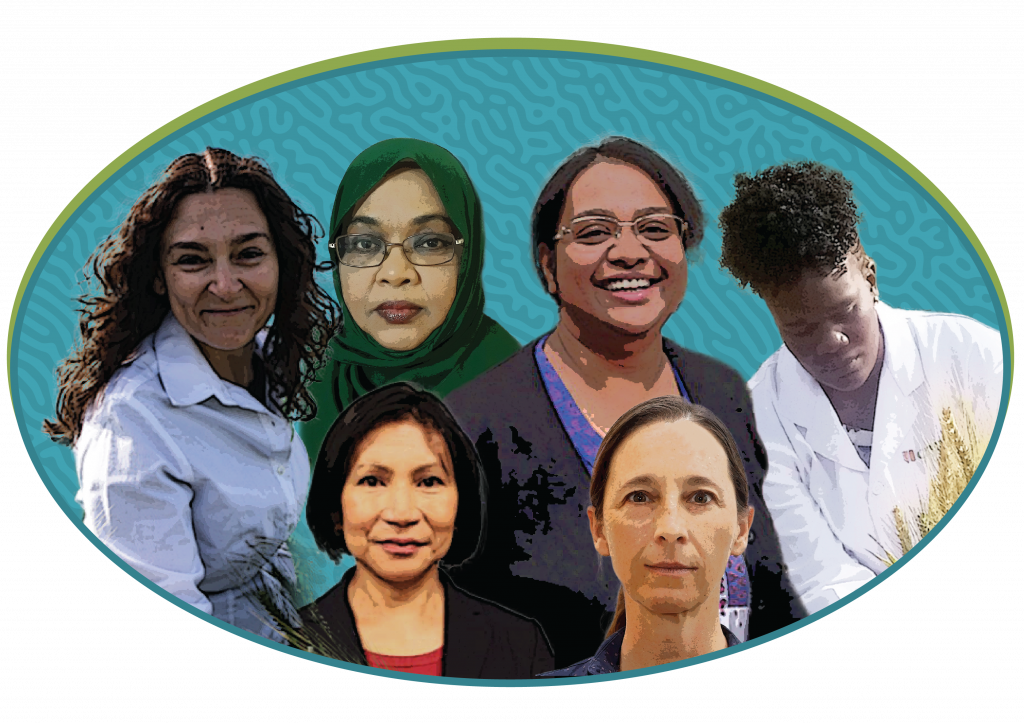 To mark International Women's Day, the International Maize and Wheat Improvement Center (CIMMYT) Global Wheat Program met with inspiring scientists in the global wheat community. In addition to highlighting the work of these leaders in research, breeding and strategy, these conversations identified five key areas to be addressed over the next five years.
Defining these "five-in-five" represents the first step in a roadmap towards a more diverse, inclusive and productive global wheat community.
In the fourth installment of the "five-in-five" series, CIMMYT scientists interview researchers from around the world about implementing gender-inclusive practices into their research, as well as their workplace. The conversations highlight the role of gender inclusive policies — designed by women, for women — to achieve the long-term Sustainable Development Goals of ending poverty, hunger and malnutrition.
Jacinta Gimeno, coordinator of the International Wheat Yield Partnership (IWYP) Hub at CIMMYT, spoke to Emmaculate Akinyi Ogutu, a research assistant in wheat rust pathology at the Kenya Agricultural and Livestock Research Organization (KALRO) in Njoro.
Ogutu's work involves the evaluation of wheat germplasm for resistance to stem rust (Ug99), and more specifically, wheat-rust pathogen interactions and their strategic deployment to generate healthy, high-yielding wheat cultivars for sustainable wheat production in Kenya. As an early career wheat scientist, she is fortunate to be surrounded by other women scientists in the national research programs who are a source of support and inspiration. She sees the contributions of these female scientists and their commitment to improving the system as crucial to creating opportunities for women in the community. In 5 years, she hopes to see even greater empowerment of Kenyan smallholder farmers, particularly women and youth. This is possible when research centers provide trainings and opportunities to participate in wheat research — be it through on farm trials, field days, or demonstrations– and when setting priorities for technology development. This could contribute to transformation, not only by increasing the adaptive capacity of women and youth, but also by promoting growth through new skills, confidence, and competition, and by challenging gender norms.
Suchismita Mondal, a wheat breeder at CIMMYT, had a conversation with Nora Lapitan, research community of practice lead in the Bureau for Resilience and Food Security and Input Systems Division Chief in the Center for Agriculture-Led Growth at USAID.
Lapitan is guided by the principle of using science to improve agriculture and the livelihoods of farmers. She has dedicated her career to steering innovations that deliver long-term sustainable growth in agriculture, maintain food security and nutrition. A big part of her vision for the future involves demand-driven product development that considers the preferences and needs of all farmers, and policies that drive accessibility and adoption of high yielding, nutritious, climate-resilient varieties. She was the first female faculty member hired in the Department of Soil and Crop Science at Colorado State University. She believes that it is important to have women in leadership positions because they are more likely to promote the development of policies and practices that are gender inclusive. Her advice to women in science is to develop clear goals, be committed, form strong alliances with peers and mentors, and be an advocate for yourself and other women.
A conversation between Carolina Saint Pierre, the CIMMYT wheat phenotyping coordinator, with Amani A. M. Idris, the national coordinator of the Wheat Research Program at the Agricultural Research Corporation (ARC) in Sudan, highlighted the importance of female leadership all along the wheat value chain.
Wheat is one of the most important agricultural commodities in Sudan, and Idris has helped her country increase cultivated area and reach record harvests of about 1 million tons last season. As an agronomist and wheat physiologist, Idris believes that there is an unexploited potential of physiological traits and tools that can lead to increased productivity in hot, dry environments such as Sudan's. In the future, she hopes to see greater representation of scientists from countries with major abiotic stress challenges (similar to Sudan's heat-stressed environments) in the development of international initiatives. Her efforts in Sudan make her a role model not only for women in wheat research, but also to women farmers, for the positive role she plays in deploying new technologies to the fields.
Stay tuned for more profiles and conversations throughout the week as part of this five-in-five series.
---
Related tags