Global grain research and food industry experts meet to address rising malnutrition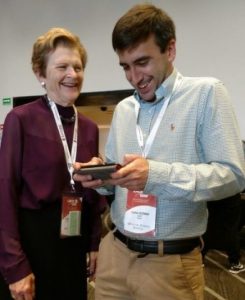 MEXICO CITY (CIMMYT) — Malnutrition is rising again and becoming more complex, according to the director-general of the world's leading public maize and wheat research center.
"After declining for nearly a decade to around 770 million, the number of hungry people has increased in the last two years to more than 850 million," said Martin Kropff, director general of the International Maize and Wheat Improvement Center (CIMMYT), in the opening address of the 4th Latin American Cereals Conference.
"Those people suffer from calorie malnutrition and go to bed hungry at night, which is a terrible thing," Kropff added. "But the diets of 2 billion persons worldwide lack essential micronutrients — Vitamin A, iron, or zinc — and this especially affects the health and development of children under 5 years old."
Kropff noted that some 650 million people are obese, and the number is increasing. "All these nutrition issues are interconnected, and are driven by rising population, global conflicts, and — for obesity — increasing prosperity, in developed and emerging economies."
"The solution? Good, healthy diets," said Kropff, "which in turn depend on having enough food available, but also diverse crops and food types and consumer education on healthy eating."
Held in Mexico City during 11-14 March and co-organized by CIMMYT and the International Association for Cereal Science and Technology (ICC), the 4th Latin American Cereals Conference has drawn more than 220 participants from 46 countries, including professionals in agricultural science and production, the food industry, regulatory agencies, and trade associations.
"We are dedicated to spreading information about cereal science and technology, processing, and the health benefits of cereals," said Hamit Köksel, president of the ICC and professor at Hacettepe University, Turkey, to open the event. "Regarding the latter, we should increase our whole grain consumption."
Köksel added that ICC has more than 10,000 subscribers in 85 countries.
Breeding micronutrient-dense cereals
One way to improve the nutrition and health of the poor who cannot afford dietary supplements or diverse foods is through "biofortification" of the staple crops that comprise much of their diets.
Drawing upon landraces and diverse other sources in maize and wheat's genetic pools and applying innovative breeding, CIMMYT has developed high-yielding maize and wheat lines and varieties that feature enhanced levels of grain zinc and are being used in breeding programs worldwide.
"In the last four years, the national research programs of Bangladesh, India, and Pakistan have released six zinc-biofortified wheat varieties derived from CIMMYT research," said Hans Braun, director of the center's global wheat program. "Zinc-Shakthi, an early-maturing wheat variety released in India in 2014 whose grain features 40 percent more zinc than conventional varieties, is already grown by more than 50,000 smallholder farmers in the Northeastern Gangetic Plains of India."
CIMMYT is focusing on enhancing the levels of provitamin A and zinc in the maize germplasm adapted to sub-Saharan Africa, Asia, and Latin America. Improved quality protein maize (QPM) varieties, whose grain features enhanced levels of two essential amino acids, lysine and tryptophan,  is another major biofortified maize that is grown worldwide, according to Prasanna Boddupalli, director of CIMMYT's global maize program.
"Quality protein maize varieties are grown by farmers on 1.2 million hectares in Africa, Asia, and Latin America," said Prasanna, in his presentation, adding that provitamin-A-enriched maize varieties have also been released in several countries in Africa, besides Asia.
A major partner in these efforts is HarvestPlus, part of the CGIAR Research Program on Agriculture for Nutrition and Health (A4NH), which supports the development and promotion of the biofortified crop varieties and related research.
"Biofortified crops have been released in 60 countries," said Wolfgang Pfeiffer, HarvestPlus global director for product development and commercialization, speaking at the conference. "The pressing need now is to 'mainstream' biofortification, making it a standard component of breeding programs and food systems."
Whole grains are good for you
A central issue on the conference agenda is promoting awareness about the importance of healthy diets and the role of whole grains.
"Participants will discuss the large body of published studies showing that whole grain foods, including processed ones, are associated with a significantly reduced risk of chronic diseases and obesity," said Carlos Guzmán, who leads wheat quality research at CIMMYT and helped organize the conference. "There is a global movement to promote the consumption of whole grains and the food industry worldwide is responding to rising consumer demand for whole grain products."
Guzmán also thanked the conference sponsors: Bimbo, Bastak Instruments, Brabender, Foss, Chopin Technologies, Perten, Stable Micro Systems Scientific Instruments, Cereal Partners Worldwide Nestlé and General Mills, Stern Ingredients-Mexico, World Grain, the CGIAR Research Program on Wheat, and Megazyme.
---
Related tags