Global study paves the way for developing gender-transformative interventions
By Dina Najjar
Gender norms – a set of cultural or societal rules or ideas on how each gender should behave – matters deeply on whether people adopt and benefit from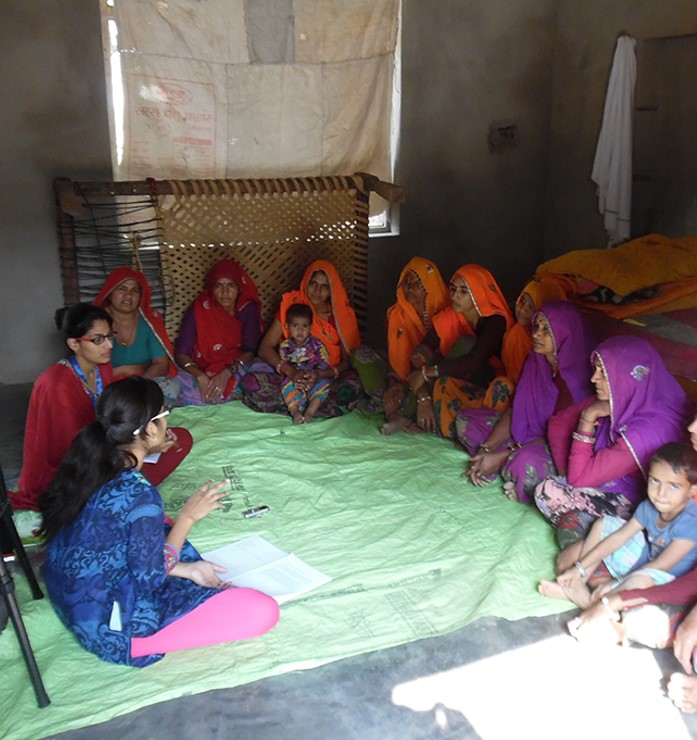 innovations. Gender norms are also fluid, as they respond to changes in society, yet many of us fail to catch up with the changing norms.
Example: As farming becomes less and less profitable, men leave rural areas for cities in search of jobs. This leaves women in charge of farms, especially in subsistence farming, but many policymakers mistakenly believe that women's roles are still confined to the house. This then becomes a barrier for women to benefit equally from agricultural innovations as men do, which negatively affects agricultural production in the household and community, more broadly.
A breakthrough CGIAR global comparative research initiative "GENNOVATE" has paved the way for developing gender-transformative interventions.
Among many resources it offers is a unique, in-depth gender knowledge base, established following five years of painstaking research – undertaken by 11 CGIAR centers, including ICARDA, and gender specialists across the globe. The study's vast data and analyses have enabled researchers to move beyond smaller, unconnected studies that have largely defined gender research.
In order to address the question of how gender norms influence men, women, and youth to adopt innovation in agriculture and natural resource management, GENNOVATE has engaged 7,500 participants from 137 rural communities in 26 countries in Africa, Asia, and Latin America. The qualitative comparative study employs a framework based on the understanding that for innovation to be effective, women and men on the ground must exercise "agency" and be active participants in adopting new technology or practice.
The findings cast light on hidden norms within rural farming societies, as well as biases that influence decision making, technology access, and adoption within these societies and in rural development programming.
GENNOVATE also provides tools and resources to help the integration of gender sensitivities into agricultural research for development projects. These evidence-based inputs and recommendations can facilitate the development of less-biased, customized interventions that meets the specific needs of target populations. They can also ensure that this is done in an inclusive, responsible manner in tune with local norms.
This means scientists, practitioners, and policymakers can more easily incorporate gender into their work on climate-smart agriculture, conservation agriculture, mechanization, and farmer-training events, just to name a few. In short, it optimizes the chances of adoption of agricultural and environmental innovation.
ICARDA and GENNOVATE
ICARDA has contributed 10 case studies to GENNOVATE. Three case studies from Morocco focused on linking gender norms and agency with innovations in agriculture, such as drip irrigation, and improved wheat and chickpeas varieties. Uzbekistan's four case studies linked gender norms and agency with improved wheat varieties. Three cases in India's Rajasthan studied the link of gender norms and agency with improved barley varieties, contract barley farming, and improved goat breeds.
ICARDA also contributed to three of the six studies featured in The Journal of Gender, Agriculture, and Food Security's special issue dedicated to GENNOVATE.
The paper "What drives capacity to innovate? Insights from women and men small-scale farmers in Africa, Asia, and Latin America" demonstrated that gender norms and personality attributes influence men's and women's ability to try out, adopt, and benefit from agricultural innovations, as well as their ability to make decisions around them – this is an area that has been largely underreported in the innovation literature.
"Gendered aspiration and occupations among rural youth in agriculture and beyond" shows that youth and gender issues are inextricably intertwined, and as a result, they cannot be understood in isolation from each other. The study also shows that deeply-ingrained gender norms often dissuade young women from pursuing agriculture-related occupation.
"Community typology framed by normative climate for agricultural innovation, empowerment, and poverty reduction" made a case that inclusive norms can lead to gender equality and agricultural innovation, deepening the capacity to make decisions that can lead to escape from poverty.
ICARDA's contribution to GENNOVATE has been made possible with support from CGIAR Research Program on Wheat and CGIAR Research Program on Grain Legumes and Dryland Cereals.
Dina Najjar is a gender specialist at ICARDA.
---
Related tags