Goat grass gives wheat breeders an edge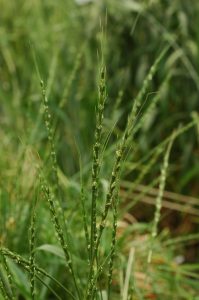 31 January 2018
by Laura Strugnell
A commentary published on 30 January in the leading science journal Nature Plants highlights the importance of an ancient grass species for wheat breeding. The commentary was sparked by the recent publication of a reference genome from Aegilops tauschii, also called goat grass.
Bread wheat was created some 10,000 years ago by a natural cross of more simple, primitive wheats with a sub-species of goat grass. As such, goat grass genes constitute a major component of the very large wheat genome. The sequencing of goat grass DNA opens the way for wheat breeders to apply a number of advanced approaches to improve the speed and precision of wheat breeding for important traits that may be found in the goat grass segment of the wheat genome.
The International Maize and Wheat Improvement Center (CIMMYT) and the International Centre for Agricultural Research in the Dry Areas (ICARDA) have produced many wheat x grass crosses, recreating the original, natural cross but using other goat grass species and thus greatly expanding wheat's diversity. Wheat lines derived from those crosses have since been used in breeding programs worldwide and have helped farmers to boost yields by up to 20 percent. Goat grass is known for being highly adaptable and disease tolerant, so the crosses endow wheat with similar qualities. Varieties from these crosses make up over 30 percent of international seed stores.
Researchers expect that the sequencing of this grass species' DNA will facilitate advanced approaches such as "speed breeding" – a technique that uses controlled variables to achieve up to seven rounds of wheat crops in one year. This will help allow wheat breeding to keep up with the rising global demand for the crop and to address the challenges of new, virulent diseases and more extreme weather.
Read the Nature Plants article: The goat grass genome's role in wheat improvement. 2018. Rasheed, A., Ogbonnaya, F.C., Lagudah, E., Appels, R., He, Z. In: Nature Plants.
---
Related tags