Researchers present highlights from 40 years of collaboration on wheat genomics, breeding for disease resistance and quality improvement.
This article by Emma Orchardson was originally posted on the CIMMYT website.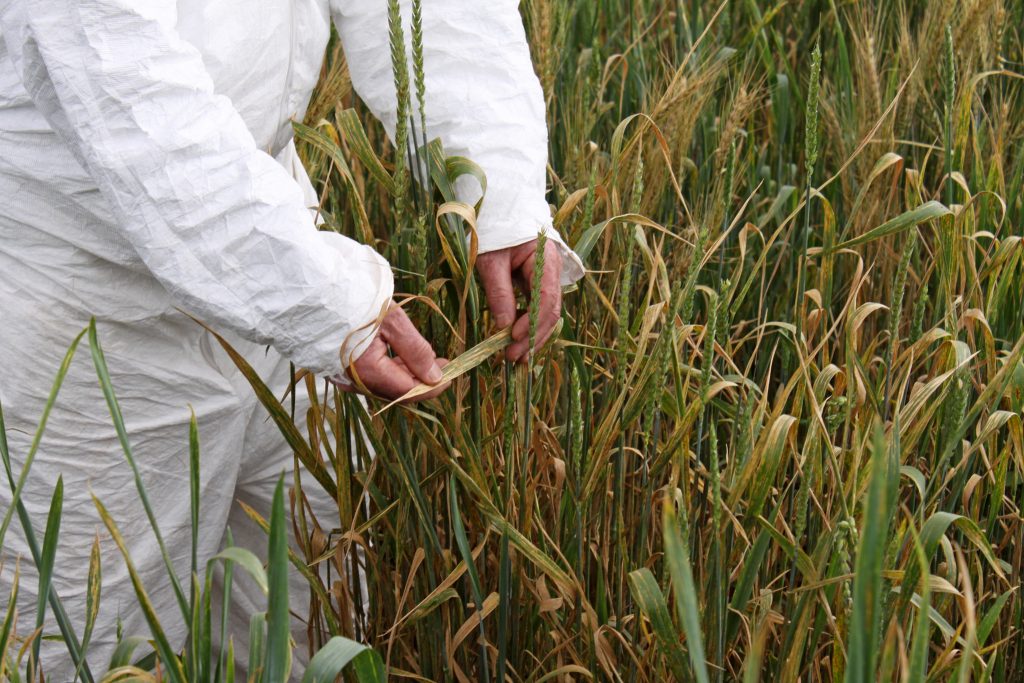 Global wheat production is currently facing great challenges, from increasing climate variation to occurrence of various pests and diseases. These factors continue to limit wheat production in a number of countries, including China, where in 2018 unseasonably cold temperatures resulted in yield reduction of more than 10% in major wheat growing regions. Around the same time, Fusarium head blight spread from the Yangtze region to the Yellow and Huai Valleys, and northern China experienced a shortage of irrigated water.
In light of these ongoing challenges, international collaboration, as well as the development of new technologies and their integration with existing ones, has a key role to play in supporting sustainable wheat improvement, especially in developing countries. The International Maize and Wheat Improvement Center (CIMMYT) has been collaborating with China on wheat improvement for over 40 years, driving significant progress in a number of areas.
Notably, a standardized protocol for testing Chinese noodle quality has been established, as has a methodology for breeding adult-plant resistance to yellow rust, leaf rust and powdery mildew. More than 330 cultivars derived from CIMMYT germplasm have been released in the country and are currently grown over 9% of the Chinese wheat production area, while physiological approaches have been used to characterize yield potential and develop high-efficiency phenotyping platforms. The development of climate-resilient cultivars using new technology will be a priority area for future collaboration.
In a special issue of Frontiers of Agricultural Science and Engineering focused on wheat genetics and breeding, CIMMYT researchers present highlights from global progress in wheat genomics, breeding for disease resistance, as well as quality improvement, in a collection of nine review articles and one research article. They emphasize the significance of using new technology for genotyping and phenotyping when developing new cultivars, as well as the importance of global collaboration in responding to ongoing challenges.
In a paper on wheat stem rust, CIMMYT scientists Sridhar Bhavani, David Hodson, Julio Huerta-Espino, Mandeep Randawa and Ravi Singh discuss progress in breeding for resistance to Ug99 and other races of stem rust fungus, complex virulence combinations of which continue to pose a significant threat to global wheat production. The authors detail how effective gene stewardship and new generation breeding materials, complemented by active surveillance and monitoring, have helped to limit major epidemics and increase grain yield potential in key target environments.
In the same issue, an article by Caiyun Lui et al. discusses the application of spectral reflectance indices (SRIs) as proxies to screen for yield potential and heat stress, which is emerging in crop breeding programs. The results of a recent study, which evaluated 287 elite lines, highlight the utility of SRIs as proxies for grain yield. High heritability estimates and the identification of marker-trait associations indicate that SRIs are useful tools for understanding the genetic basis of agronomic and physiological traits.
Other papers by CIMMYT researchers discuss the history, activities and impact of the International Winter Wheat Improvement Program, as well as the ongoing work on the genetic improvement of wheat grain quality at CIMMYT.
Find the full collection of articles in Frontiers of Agricultural Science and Engineering, Volume 6, Issue 3, September 2019.