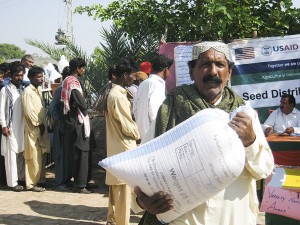 By Krishna Dev Joshi, Katie Lutz and Mike Listman/CIMMYT
ISLAMABAD, Pakistan (February 13, 2015)- Lack of access to seed of improved wheat varieties is holding back harvests of smallholder wheat farmers in remote areas of Punjab, Pakistan, a group of farmers told representatives of seed companies, input dealers and research, extension and development organizations, at a workshop last fall in Chakwal, Punjab, Pakistan.
"Ninety-five percent of farmers in Pothwar, a semiarid region of bare and broken terrain, use farm-saved seed of outdated varieties, invariably with limited use of modern agricultural technologies and inputs, resulting in poor crop establishment and low yields," said Krishna Dev Joshi, CIMMYT wheat improvement specialist based in Pakistan and who helped organize the workshop. "Their yields average only 0.6 tons per hectare, compared to progressive farmers in irrigated areas who harvest ten times that amount."
Joshi explained that the same three wheat varieties cover 83 percent of the region and have been used for the past 24 years. "One of these, C591, is a variety that was recommended in 1934 and is still grown on about 14 percent of the region's nearly 0.6 million hectares of wheat area."
Seed companies and input suppliers tend to target larger-scale farmers and areas with higher average yields, where farmers are more likely to invest in seed of new varieties, fertilizer and other farm inputs.
But more than 70 percent of Pakistani wheat farmers are smallholders, cultivating between one and five hectares of land. They could greatly benefit from seed of appropriate, new wheat varieties. Many are ready to purchase seed but encounter obstacles, such as fraudulent dealers of fake "certified" seed or seed mixed with simple grain.
"Last year I bought a bag of seed labelled 'Galaxy,' a new, high-yielding variety," said Haji Muhammad Aslam Ochallee, a farmer from Khushab District, "but the seed inside was of an entirely different variety."
Pothwar's problems reflect Pakistan's overall food security challenge, according to Joshi. "A 2014 bulletin by the World Food Program shows that more than 27 million people in Pakistan are highly-to severely food insecure," he said.
Activating the Wheat Seed Value Chain
As a part of the Agricultural Innovation Program (AIP) for Pakistan, a project funded by the US Agency for International Development (USAID), CIMMYT is working with the Pakistan Agricultural Research Council (PARC), the Barani Agricultural Research Institute (BARI) in Punjab, and seed companies and farmers to close the gaps in Punjab's wheat seed value chain and address concerns voiced at the workshop.
"These included improved communication and coordination among research and extension agencies and better marketing of new wheat varieties to farmers," Joshi explained. "Farmers recommended establishing village committees to choose and access seed of new varieties and help foster truth in labeling. They particularly called for strict punishment for those selling fake seed."
AIP has already launched participatory varietal selection (PVS) trials in which farmers and researchers jointly evaluate 14 new, high-yielding, disease resistant wheat varieties of diverse genetic backgrounds on the farms of 65 smallholders across Pothwar.
With backstopping from companies and researchers, 52 Pothwar farmers have begun producing seed of nine new varieties in over 40 ha lands.
Finally, workshop participants forged an agreement that allows private seed companies to have access to pre-basic seed of public sector varieties for producing basic seeds — normally the duty of official agencies — with support from breeders and Pakistan's Federal Seed Certification and Registration Department. This will speed the marketing of new varieties.