Rising Temperatures, Falling Wheat Yields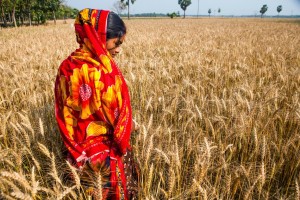 By Katie Lutz/CIMMYT 
EL BATAN, Mexico (January 22, 2016)- Global temperatures are projected to increase 2 to 4 degrees C by the end of the century, according to the Intergovernmental Panel on Climate Change.
"Rising temperatures reduce global wheat production," a recent study published in the leading science journal, Nature Climate Change, discusses the work of 50 scientists from 15 countries stating that this increase in temperature will be a huge threat to wheat yields. Through use of 30 crop models and data from field experiments, these scientists found that rising temperatures are already reducing global wheat production.
Their main finding was that, for every 1 degree C increase in growing season mean temperatures, wheat production decreases by six percent — equivalent to a worldwide loss of 42 million tons of grain.
Matthew Reynolds, International Maize and Wheat Improvement Center (CIMMYT) distinguished scientist and contributing researcher and author to the study,  noted that "Adaptation to heat stress is a very high priority for wheat right now, and I am optimistic that we can combine complementary heat adaptive traits to achieve it."
Led by Senthold Asseng, University of Florida Professor of agricultural and biological engineering, the scientists tested multiple models against field and artificial heating experiments and then compared the models to unpublished data sets from similar field experiments. The first data set analyzed was from a `Hot Serial Cereal' (HSC) experiment and the second was from CIMMYT field trials.
"CIMMYT has promising breeding lines, genetic resources and projects that will provide a major boost in wheat's heat tolerance," Reynolds said. "These include the SATYN nurseries and The Heat and Drought Wheat Improvement Consortium (HeDWIC)."
Wheat is consumed by some 2.5 billion people in 89 countries. Without improved adaptation to heat, wheat will give poorer harvests, destabilizing global trade and bringing food price spikes. Millions of the poor who depend on wheat as a staple will then find it hard to purchase their daily bread.
Related Articles
Study Shows Climate Change Could Negatively Impact Maize and Wheat Yields by 2030
Global warming reduces wheat production markedly if no adaptation takes place
Climate's threat to wheat is rising by degrees
Small temperature rise could devastate wheat yields, say scientists
---
Related tags