University of Sydney connection delivers past, present and future wheat at CIMMYT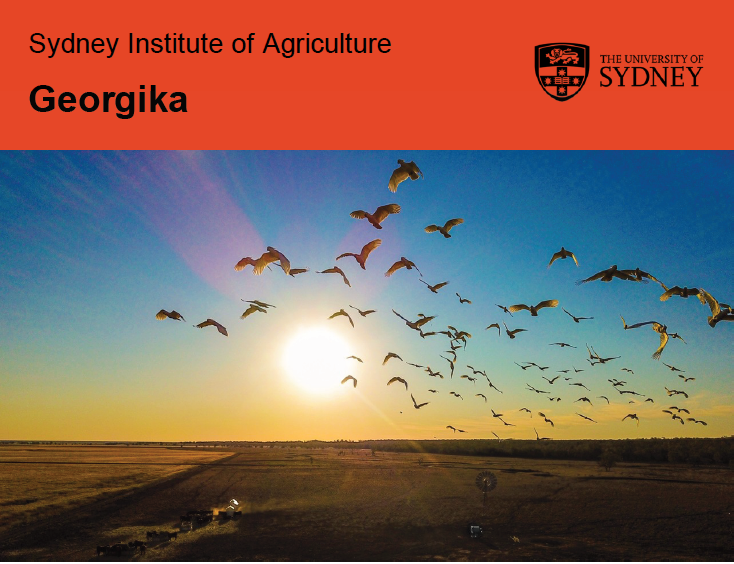 CIMMYT wheat scientists with connections to the University of Sydney were recently recognized in an issue of Georgika, the newsletter of the University's Institute of Agriculture. Following is a transcription of the article.
Over the course of several decades, the University of Sydney has been sowing seeds of scientific talent that have taken root at a wheat research centre based halfway around the world: the International Maize and Wheat Improvement Center (CIMMYT), a world-renowned international agricultural research and training non-profit headquartered in Mexico.
CIMMYT's origins go back to the work of Norman Borlaug, which helped spark the Green Revolution and led to a Nobel Peace Prize. Today, CIMMYT scientists with ties to the University of Sydney are conducting state-of-the-art wheat science that Norman Borlaug might only have dreamed of.
Sanjaya Rajaram is CIMMYT's most legendary University of Sydney alumnus. Sanjaya, 2014 World Food Prize laureate and 33-year veteran of CIMMYT developed 480 wheat varieties released in 51 countries and served as Director of the Global Wheat Program, received his PhD in plant breeding in the 1960s for a project based in Narrabri.
From legendary breeders to brand-new leaders, the University of Sydney-CIMMYT pipeline appears to be strong and growing. We caught up with a few of the many CIMMYT scientists with ties to the University, to find out how their University connection impacts their work creating the future of wheat.
Ravi Singh
Ravi Singh is a distinguished scientist and head of CIMMYT's International Wheat Improvement Program, where he has been working for the last 37 years. Ravi earned his doctoral degree from the University of Sydney in genetics of rust resistance in wheat. In this role, his mission is to continue enhancing wheat productivity on 60 million hectares in Asia, Africa and Latin America by developing and distributing new more productive, disease resistant, climate resilient wheat varieties with processing and nutritional qualities to wheat researchers worldwide. Ravi has contributed to the development of more than 550 wheat varieties released by national program partners in many countries, including Australia.
"My University of Sydney scholarship and the opportunity to work under the supervision of Bob McIntosh gave me excellent knowledge of wheat rusts and resistance, which brought me to CIMMYT to continue working on it when I joined in 1983. Breeding rust resistant varieties with other necessary traits became a passion for me and that is what I do nowadays," Ravi said.
Sridhar Bhavani
Sridhar Bhavani received a master's degree in Molecular Biotechnology and a doctoral degree in Wheat Rust Genetics and Breeding from the University of Sydney. As the head of rust research at CIMMYT, Sridhar Bhavani's objective is to develop improved bread and durum wheat germplasm with durable resistance to the three rust diseases: leaf rust, yellow rust and stem rust. This involves dissecting the genetic components of resistance in a wide range of germplasm to better understand the genetic architecture of the trait, developing breeder friendly markers for trait introgression, coordinating the rust phenotyping platforms and working closely with the global rust reference centers on improved survey and surveillance and capacity building of national programs.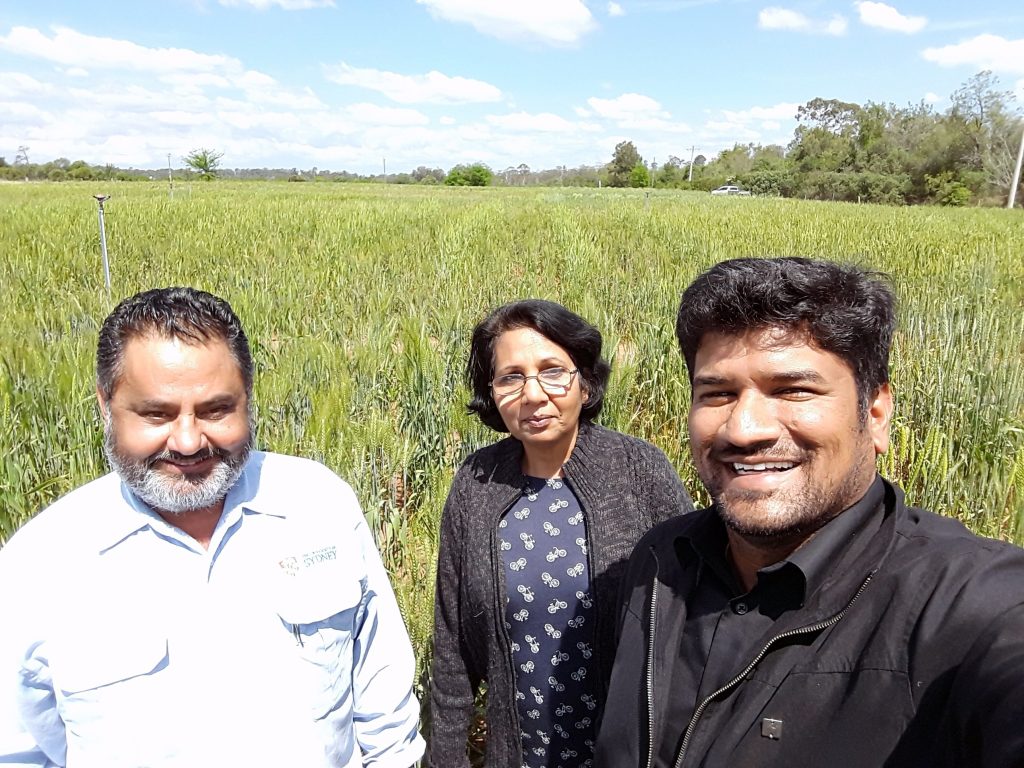 Sridhar's 12-year collaboration with the University of Sydney's Plant Breeding Institute (PBI) continues to this day with PBI projects on wheat and barley with the Australian Cereal Rust Control Program; and with the Commonwealth Scientific and Industrial Research Organisation (CSIRO)-University of Sydney molecular marker program, funded by the Grains Research and Development Corporation (GRDC).
During his academic career at the University, Sridhar was awarded a Faculty of Science Student Fellowship for his master's degree research and the Thomas Lawrence Pawlett Scholarship for his doctoral research.
"The Plant Breeding Institute, University of Sydney has been instrumental in honing my theoretical and technical skills during my PhD study," Sridhar said. "It was a rewarding experience working with eminent rust researchers. PBI has a wide network of collaborations both with CGIAR centers and advanced research institutes and universities, providing opportunities for students to conduct research at other centers. It still continues to be a hub for training young researchers from all over the world on cereal rusts."
Alison Bentley
Alison Bentley is one of the newest University alumni to join CIMMYT, taking over as Director of the Global Wheat Program in November 2020. Alison earned both a BScAgr and a PhD at the University of Sydney. Prior to joining CIMMYT, Alison was the director of Genetics and Breeding at the UK National Institute of Agricultural Botany (NIAB),working on wheat pre-breeding and trait genetics. She serves as the UK representative on the International Wheat Initiative Scientific Committee, and is a committee member for the Genetics Society, the UK Plant Sciences Federation, the Society of Experimental Botany, and the Editorial Board of Heredity.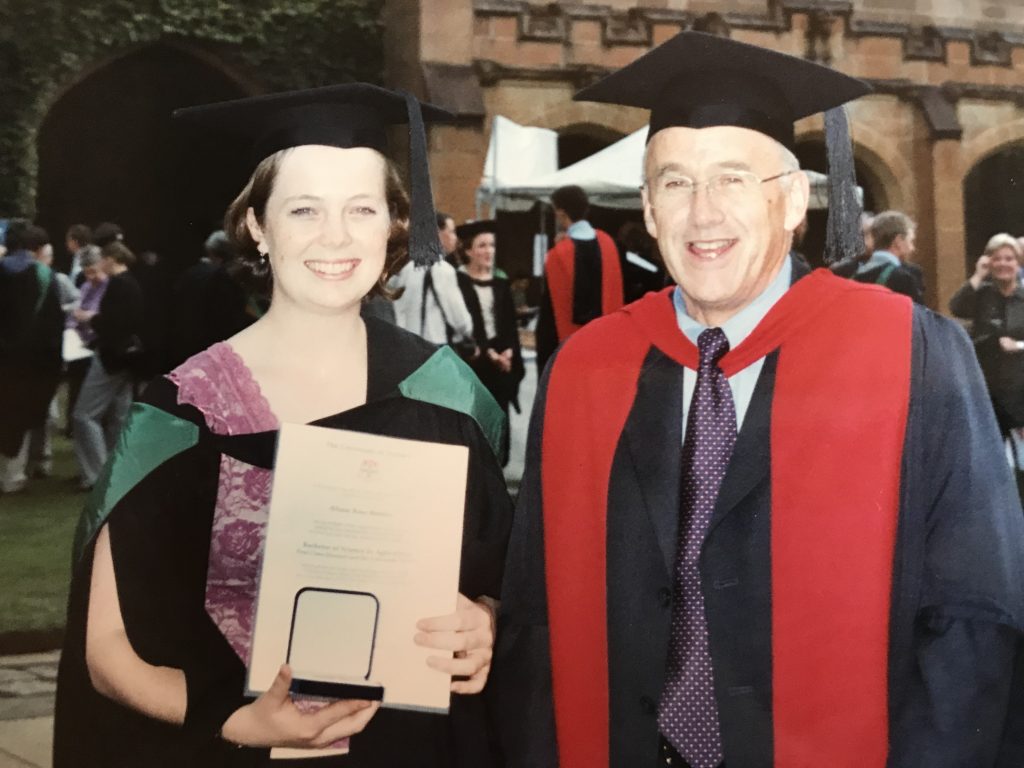 "My research centres on the major questions of how to mobilize new scientific tools and technologies to accelerate wheat breeding, how better to adapt wheat to increasing seasonal instability and how to optimise input use in cereal-based cropping systems. These research areas are closely aligned with the work of the Global Wheat Program at CIMMYT and I am really looking forward to working with the incredible team to continue to use research and breeding to drive wheat breeding gains and their associated impacts."
Alison "hugely enjoyed" her time as an undergrad and postgrad student at Sydney; particularly noting the "welcoming, friendly, and collaborative environment in which to discover things."
"Questions were always encouraged (at all levels) and staff were always happy to share opinions (not always positive, but always constructive)."
Alison's relationship with the university began a weekend event hosted at PBI Cobbitty for high school students interested in agriculture. The opportunity to have hands-on experience extracting DNA, touring facilities and hearing from plant breeders and other scientists inspired her to pursue her education there, a decision with lifelong impacts.
"I enjoyed the focus on application of science into practice, which I have carried forward in my career."
"Sydney Uni was also a great environment to combine different interests and gave me the opportunity to play international sport whilst studying as well as to travel and enhance both my personal and professional development. This was very important for developing my understanding of how to work with others and to lead and manage diverse teams."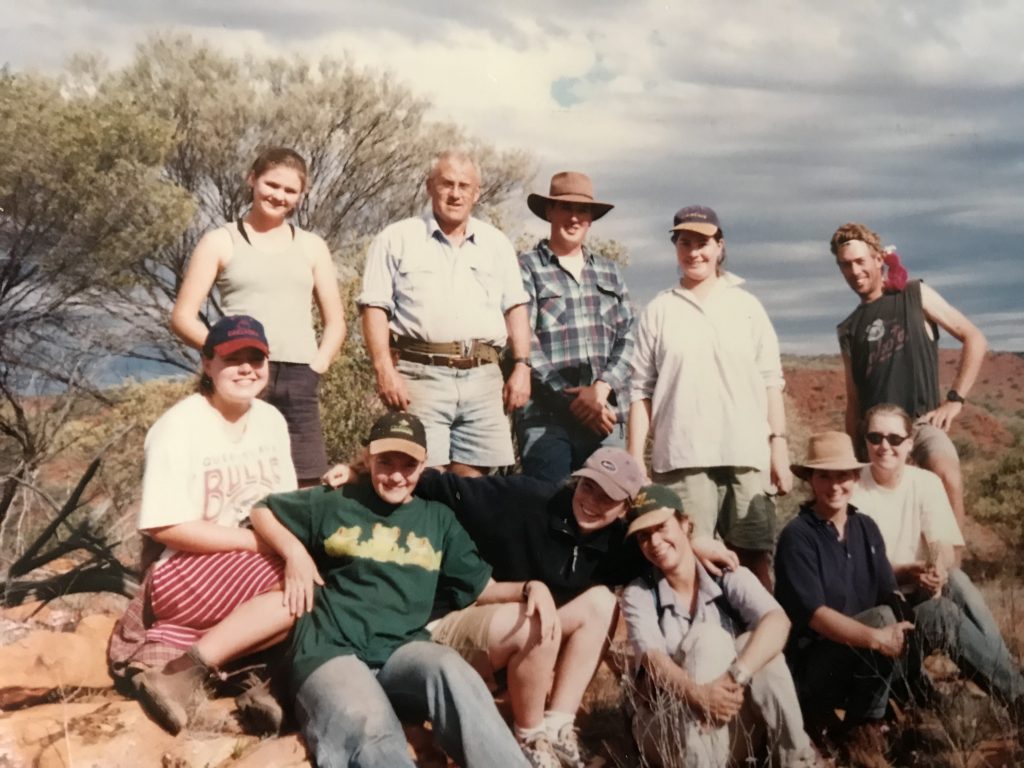 Mandeep Randhawa
Mandeep Randhawa earned his doctoral degree in Wheat Rust Pathology, Molecular Genetics and Breeding from University of Sydney. Mandeep currently manages and organizes the operational activities of the International Stem Rust Phenotyping Platform led by CIMMYT and the Kenya Agricultural and Livestock Research Organization (KALRO) in Njoro, Kenya.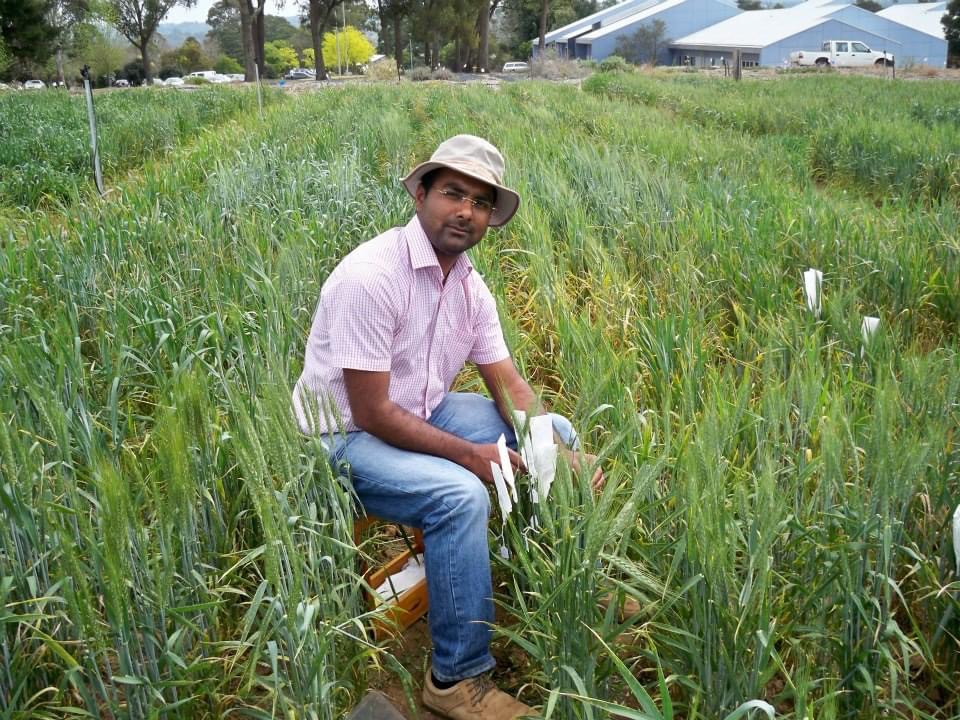 "In a nutshell, I contribute to rust research through identification and characterization of new sources of rust resistance, development of breeder friendly markers, transfer of rust resistance genes in breeding lines, field evaluation of germplasm accessions (wheat, durum, barley and oat) from various countries, and facilitating delivery of improved high yielding wheat lines for identification and release in the country. I also promote biofortified wheat lines in the region and conduct monitoring and early warning through improved rust surveys and surveillance, and capacity building through annual training courses and supervising students," Mandeep explained.
Mandeep's association with the University of Sydney began with his contribution to an Australian Centre for International Agricultural Research (ACIAR)-funded India-Australia collaborative research project on molecular marker technologies for faster wheat breeding in India, led by Sydney's Richard Trethowan. From there, Mandeep was awarded the John Allwright Fellowship from ACIAR to pursue his PhD at Sydney, where his studies covered genetic characterization and mapping of rust resistance genes to facilitate their marker-assisted transfer into Indian and Australian wheat cultivars.
His collaboration with the Plant Breeding Institute Cobbitty continues at CIMMYT, with GRDC-funded joint wheat rust projects with the Institute and CSIRO.
"The Plant Breeding Institute Cobbitty is considered a 'Mecca' of cereal rust research. It was an honour and privilege to work, learn and conduct research with the support and mentorship of well-known scientists in cereal rust research" such as Drs. Urmil Bansal, Harbans Bariana and Richard Trethowan, he said. "My interdisciplinary training –in pathology, molecular genetics and breeding for disease resistance – at Sydney has equipped me with skills and capabilities to pursue my current role."
Naeela Qureshi
Naeela Qureshi earned a doctoral degree in Molecular Genetics/Plant Breeding and Pathology from the University of Sydney and worked as a Research Associate at the Plant Breeding Institute. Naeela recently joined CIMMYT as an Associate Scientist in wheat rust molecular genetics and pathology, where she focuses on identifying and characterizing new sources of rust resistance genes and developing breeder friendly molecular markers linked with various rust resistance genes to facilitate marker-assisted breeding.
She is recipient of the early career award from International Wheat Genome Sequencing Consortium (IWGSC), the Jeanie Borlaug Laube Women in Triticum (WIT) award, and the USDA Borlaug Fellowship — but before these recognitions, she received the University of Sydney International Scholarship and Australian Endeavour Award that led her to her PhD.
After earning her doctoral degree in Molecular Genetics/Plant Breeding and Pathology, Naeela then became a PBI Research Associate working on discovery, characterization and molecular mapping of rust resistance genes. And, in a third role, Naeela went on to providing next-generation sequencing platforms to PBI collaborators at Agriculture Victoria Research.
"PBI played a very significant role in shaping and developing my capabilities in wheat rust research," Naeela said. "All my practical and academic research skills in wheat rust discipline comes from PBI and my supervisors, Dr. Urmil Bansal and Dr. Harbans Bariana.
"I am looking forward to collaborating with University of Sydney researchers in the future under joint projects with CIMMYT," Naeela said, echoing her CIMMYT colleagues.
Other Sydney alumni who have worked at CIMMYT include former CIMMYT wheat breeder David Bonnett and durum wheat and maize pathologist Sandro Loladze.
Richard Trethowan, undergraduate and postgraduate alumnus of the Faculty of Agriculture and now Professor of Plant Breeding and Director of the PBI, spent 13 years at CIMMYT and was the Principal Scientist and Head of Global Bread Wheat Breeding for Rainfed Areas.
---
Related tags