World Food Prize Honors CIMMYT's Bram Govaerts with the "2014 Norman Borlaug Award for Field Research and Application"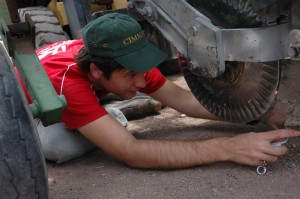 By Katie Lutz/CIMMYT
EL BATAN, Mexico (September 18, 2014)- Dr. Bram Govaerts,  associate director of CIMMYT's global conservation agricultural program and leader of a joint CIMMYT-government of Mexico major initiative known as the Sustainable Modernization of Traditional Agriculture (MasAgro), will receive the 2014 Norman Borlaug Award for Field Research and Application, endowed by the Rockefeller Foundation. The Award was announced by U.S. Ambassador Kenneth Quinn, World Food Prize President, at the USAID Frontiers in Development Forum in Washington, D.C., on 18 September, and will be given as part of the World Food Prize Borlaug Dialogue international symposium on 15 October. It recognizes work by a researcher under 40 years old who emulates the scientific innovation and dedication to food security practiced by 1970 Nobel Peace Prize Laureate, Dr. Norman Borlaug.
"Dr. Govaerts has used creative and innovative approaches in applying science to improve farming systems, to focus on farmers as development catalysts and to restore a sense of pride among farmers and those who serve them," said Quinn.
Govaerts was particularly inspired by the phrase "Take it to the farmer," an aging Borlaug's rejoinder to colleagues who showed him a new device for measuring the vigor of a field crop. Applying Borlaug's principle, Govaerts was instrumental in framing the MasAgro initiative and its "Take it to the Farmer" component, which integrates innovations into small-scale farming systems for maize and wheat, while minimizing harmful impacts on the environment.  As a result of this work, Mexican farmers on over 94,000 hectares switched to sustainable systems using MasAgro technologies, while farmers on another 600,000 hectares are receiving training and information to improve techniques and practices.
"Echoing Borlaug's key qualities, Govaerts' vision of applied science, knowledge of the Mexican countryside, mastery of Spanish, communication skills and charisma have played a key role in MasAgro's success and helped put CIMMYT in the center of translating research into wide-spread impact and major agricultural policy changes," said Thomas Lumpkin, CIMMYT director general.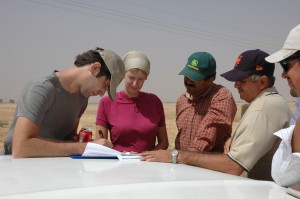 Govaerts began working for CIMMYT as an undergraduate student at the Catholic University of Leuven, Belgium. "He quickly developed an immense knowledge of Mexican agriculture, mentored numerous scientists and put into practice an ambitious vision to develop and promote agricultural practices that improve farmers' incomes and livelihoods," said Lumpkin.
"The best recognition of Dr. Borlaug's legacy is to be conscious and shout out loud that farming is the future," said Govaerts. "It is our moral duty as researchers to bring pride back to the fields by harnessing the existing innovations of farmers and other value chain actors and fostering capacity and application of science and technology, hence making agriculture sexier for future generations."
Govaerts also credited staff and partners who have worked to bring the efforts described to fruition. "This is not my award," he said, "but a recognition for all who believe in 'Take it To the Farmer' and in bringing science and innovation to the field. It's a credit to the incredible people who work tirelessly in the field, offices and laboratories to make conservation agriculture research in CIMMYT a success, maintaining the long-term trials and changing science into action. This includes MasAgro staff and partners — farmers, technicians, scientists and small-scale entrepreneurs in Mexico, Guatemala, Ethiopia and many other places who decided that we can actually make a difference."
Additional reading on this topic:
The media release regarding the award.
---
Related tags