2015 ICARDA annual report: Towards Dynamic Drylands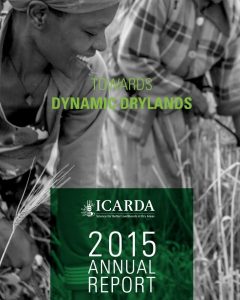 By Mike Listman/CIMMYT
BEIRUT, Lebanon (October 7, 2016) – ICARDA's work in the severely food-and water-stressed Middle Eastern and North African countries puts it in a strong position to contribute to stability in the region, addressing the root causes of the migration—food insecurity, unemployment, drought and environmental degradation.
Center outcomes in 2015 add to the body of evidence that demonstrates a clear potential and path towards productive and climate-resilient livelihoods for smallholders and livestock producers – a road towards 'Dynamic Drylands' – the theme of ICARDA's 2015 Annual Report, which we proudly present.
To read the report on line or download a pdf copy, click here.
---
Related tags