A wheat self-sufficiency roadmap for Ethiopia's future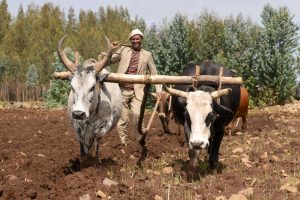 This blog by Jérôme Bousset was originally posted on CIMMYT.org.
The Ethiopian government announced recently that the country should become wheat self-sufficient over the next four years. Why is boosting domestic wheat production important for this country in the Horn of Africa, and could wheat self-sufficiency be attained in the next four years? The Ethiopian Institute for Agricultural Research (EIAR), with the support of International Maize and Wheat Improvement Center (CIMMYT), gathered agriculture and food experts from the government, research and private sectors on November 23, 2018, to draw the first outlines of this new Ethiopian wheat initiative.
The low-tech domestic wheat farming and price support issue
Despite a record harvest of 4.6 million metric tons in 2017, Ethiopia imported 1.5 million tons of wheat the same year, costing US$600 million. Population growth, continuous economic growth and urbanization over the last decade has led to a rapid change in Ethiopian diets, and the wheat sector cannot keep up with the growing demand for pasta, dabo, ambasha and other Ethiopian breads.
The majority of Ethiopia's 4.2 million wheat farmers cultivate this cereal on an average of 1.2-hectare holdings, with three quarters produced in Arsi, Bale and Shewa regions. Most prepare the land and sow with draft animal power equipment and few inputs, dependent on erratic rainfall without complementary irrigation. Yields have doubled over the last 15 years and reached 2.7 tons per hectare according to the latest agricultural statistics, but are still far from the yield potential.
According to data from the International Food Policy Research Institute (IFPRI), wheat is preferred by wealthier, urban families, who consume 33 percent more wheat than rural households. Ethiopia needs to rethink its wheat price support system, which does not incentivize farmers and benefits mostly the wealthier, urban consumers. Wheat price support subsidies could, for instance, target bakeries located in poor neighborhoods.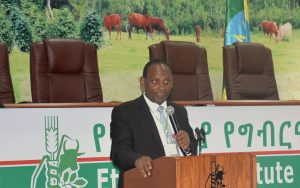 Where to start to boost wheat productivity?
Ethiopia, especially in the highlands, has an optimum environment to grow wheat. But to make significant gains, the wheat sector needs to identify what limiting factors to address first. The Wheat initiative, led by Ethiopia's Agricultural Transformation Agency (ATA), has targeted 2,000 progressive farmers across 41 woredas (districts) between 2013 and 2018, to promote the use of improved and recommended inputs and better cropping techniques within their communities. A recent IFPRI impact study showed a 14 percent yield increase, almost enough to substitute wheat imports if scaled up across the country. It is, however, far from the doubling of yields expected initially. The study shows that innovations like row planting were not widely adopted because of the additional labor required.
Hans Braun, WHEAT CGIAR research program and CIMMYT's Global Wheat Program director, believes Ethiopian farmers can achieve self-sufficiency if they have the right seeds, the right agronomy and the right policy support.
One priority is to increase support for wheat improvement research to make wheat farmers more resilient to new diseases and climate shocks. Drought and heat tolerance, rust resistance and high yields even in low-fertility soils are some of the factors sought by wheat farmers.
International collaboration in durum wheat breeding is urgently needed as the area under durum wheat is declining in Ethiopia due to climate change, diseases and farmers switching to more productive and resilient bread wheat varieties. Braun advises that Ethiopia set up a shuttle breeding program with CIMMYT in Mexico, as Kenya did for bread wheat, to develop high-yielding and stress-resistant varieties. Such a shuttle breeding program between Ethiopia and Mexico would quickly benefit Ethiopian durum wheat farmers, aiming at raising their yields similar to those of Mexican farmers in the state of Sonora, who harvest more than 7 tons per hectare under irrigation. This would require a policy reform to facilitate the exchange of durum germplasm between Ethiopia and Mexico, as it is not possible at the moment.
Ethiopia also needs to be equipped to respond quickly to emerging pests and diseases. Five years ago, a new stem rust (TKTTF, also called Digalu race) damaged more than 20,000 hectares of wheat in Arsi and Bale, as Digalu — the popular variety used by local farmers — was sensitive to this new strain. The MARPLE portable rust testing lab, a fast and cost-effective rust surveillance system, is now helping Ethiopian plant health authorities quickly identify new rust strains and take preventive actions to stop new outbreaks.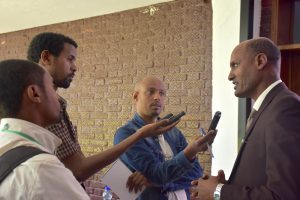 Invest in soil health, mechanization and gender
In addition to better access to improved seeds and recommended inputs, better agronomic practices are needed. Scaling the use of irrigation would certainly increase wheat yields, but experts warn not to dismiss adequate agronomic research — knowing the optimal water needs of the crop for each agroecological zone — and the underlying drainage system. Otherwise, farmers are at risk of losing their soils forever due to an accumulation of salt.
''2.5 billion tons of topsoil are lost forever every year due to erosion. A long-term plan to address soil erosion and low soil fertility should be a priority," highlights Marco Quinones, adviser at ATA. For instance, large-scale lime application can solve the important issue of acid soils, where wheat does not perform well. But it requires several years before the soil can be reclaimed and visible yield effects can be seen.
Mechanization could also boost Ethiopian wheat production and provide youth with new job opportunities. Recent research showed smallholder farmers can benefit from six promising two-wheel tractor (2WT) technologies. Identifying the right business models and setting up adapted training programs and financial support will help the establishment of viable machinery service providers across the country.
Better gender equity will also contribute significantly to Ethiopia becoming self-sufficient in wheat production. Women farmers, especially female-headed households, do not have the same access to trainings, credit, inputs or opportunities to experiment with new techniques or seed varieties because of gender norms. Gender transformative methodologies, like community conversations, can help identify collective ways to address such inequalities, which cost over one percent of GDP every year.
''With one third better seeds, one third good agronomy and one third good policies, Ethiopia will be able to be wheat self-sufficient," concluded Braun. A National Wheat Taskforce led by EIAR will start implementing a roadmap in the coming days, with the first effects expected for the next planting season in early 2019.
The consultative workshop "Wheat Self-Sufficiency in Ethiopia: Challenges and Opportunities" took place in Addis Ababa, Ethiopia, on November 23, 2018.
---
Related tags