Constantly vigilant: Q&A with rust disease scientist Sridhar Bhavani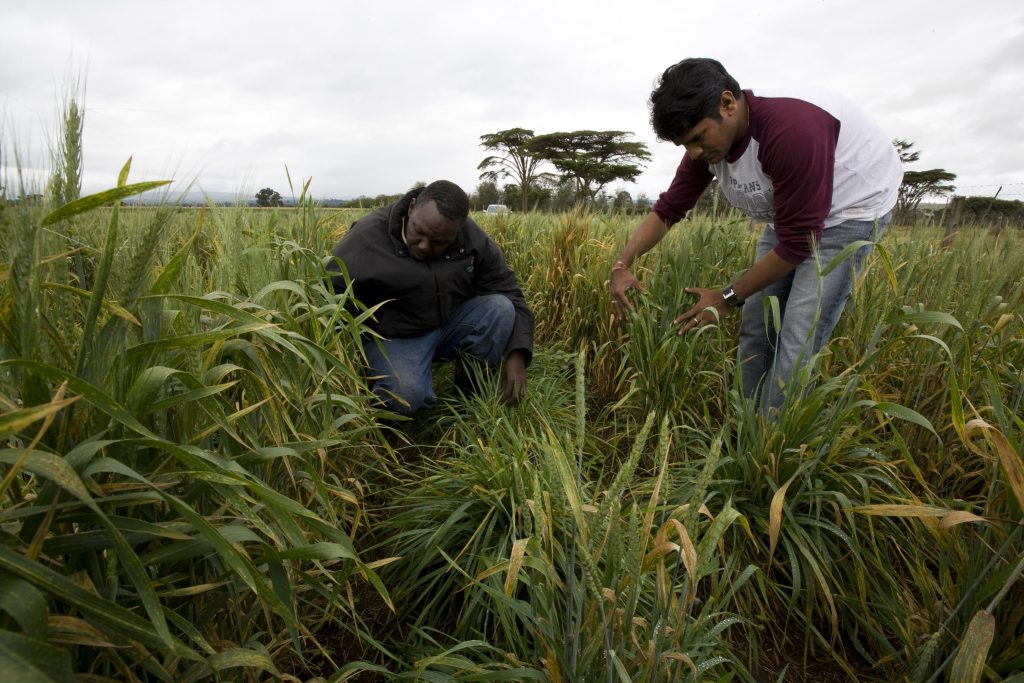 International Maize and Wheat Improvement Center (CIMMYT) Senior Scientist and Head of Rust Pathology and Molecular Genetics Sridhar Bhavani has been fighting the spread of deadly wheat rusts for over 15 years. He recently presented "A Decade of Stem Rust Phenotyping Network: Opportunities, Challenges and Way Forward" at the Borlaug Global Rust Initiative Technical Workshop in October.
We picked his brain about the growing danger of rust diseases, the newest weapons fighting them, and how researchers both within and outside the CGIAR system can best help wheat smallholder farmers in this seemingly never-ending battle.
---
Q: It seems like the rust races keep mutating, growing, and spreading and crop breeders and scientists are constantly in a position of reacting. Is this happening faster than in the past or does it just seem that way? Is this a factor of climate change, less diverse modern varieties, something else? Will we ever get ahead of the curve?
A: That's right. Such events can in part be attributed to climate change. In the case of yellow rust races, we have seen the evolution of new aggressive races that are adapted to warmer temperatures in the last two decades, an unusual acclimatization for this disease. These races initiate early infection and with faster disease progression, produce large amounts of spores and rapidly evolve to overcome resistant genes. The northern Himalayan region has been identified as a diversity hotspot for these aggressive races, resulting in significant yield losses and global migration of these races.
Interestingly, stem rust races of the Ug99 group have also adapted to cooler environments at altitudes over 3000 meters, which have been identified in the foothills of Mt. Kenya. Recent reports of stem rust variants of the "Digelu" race group, which has resurfaced in the United Kingdom and Europe, is a grave concern considering that the disease was practically under control for over 30 years.
Such diverse, fast-evolving, migrating populations pose a great challenge for breeding programs to continuously scout and deploy new resistant genes. For example, in Mexico, a new race with virulence has evolved every other year over the course of 12 years.
The lack of diversity of resistance genes (genetic uniformity) or combinations of multiple genes in varieties occupying vast production areas (mega varieties) compounds the issue of climate change. This can result in significant yield losses when resistant genes break down.
Different approaches have been used to enhance resistance durability, enabling breeders to stay ahead of the curve:
Pyramiding: Combining 2-3 resistance genes in a single variety makes it difficult for pathogens to overcome multiple genes at once.
Deploying complex race- non-specific pleotropic adult plant resistance (APR) genes: These genes, such as Sr2, Lr34, Lr46, Lr67 and Lr68, condition partial resistance against multiple diseases (leaf rust, stem rust, yellow rust, powdery mildew, etc.) and are present in CIMMYT germplasm. Combinations of three to four APR genes can enhance resistance to near-immune levels. Though cumbersome, it has been quite effective to keep rust under control over the last two decades.
Transgenic cassette approach: It is now possible to transform wheat lines with a cassette of up to eight multiple-cloned resistance genes. This approach stacks multiple resistance genes in the same cultivar and can enhance durability for longer periods. However, current regulatory framework in developed and developing nations doesn't allow cultivation of transgenic wheat.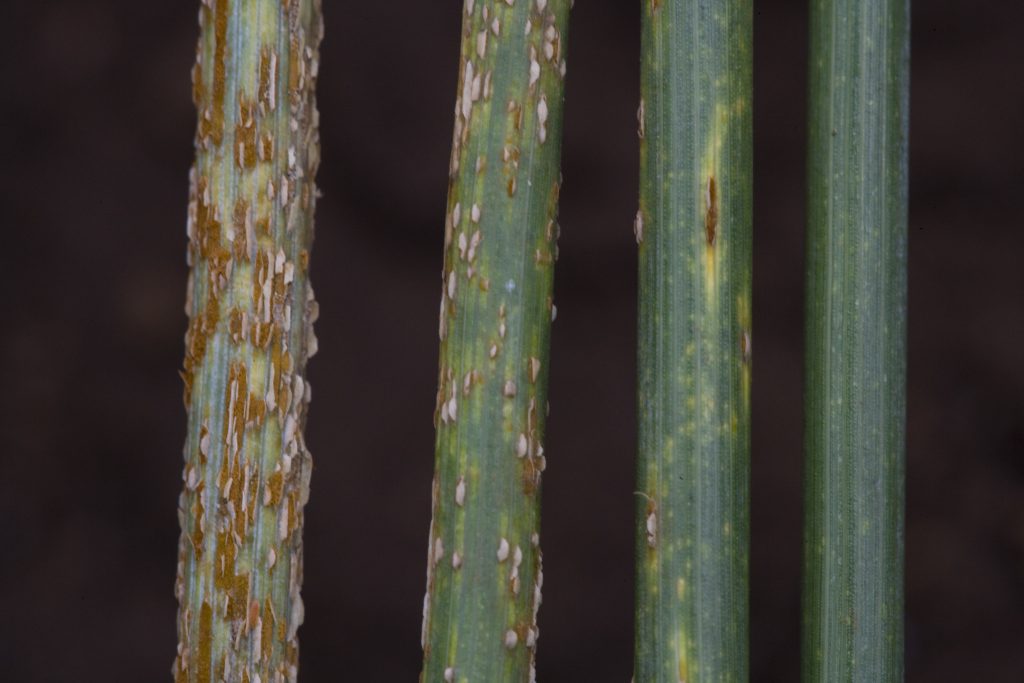 ---
Q: What do you think are the areas where the global crop science/agricultural policy community can do better to help smallholder farmers?
A: The community should focus on developing long-term sustainable solutions:
Focus on genetic solutions for resource-poor smallholder farmers who lack access to fungicides
Eliminate older, susceptible varieties from wheat production areas.
Improve rapid dissemination of tools and technologies through on-farm trials and demonstrations, efficient seed systems, strong national extension networks and communities of practice.
Enhance national-level emergency preparedness for crop disease. A country's response time and ability to contain the infected area and mitigate the damage through both immediate and long-term solutions makes a huge difference.
Promote policies that fast-track release, multiplication and testing time of improved resistant varieties, which historically takes six to eight years from the time the line is developed.
---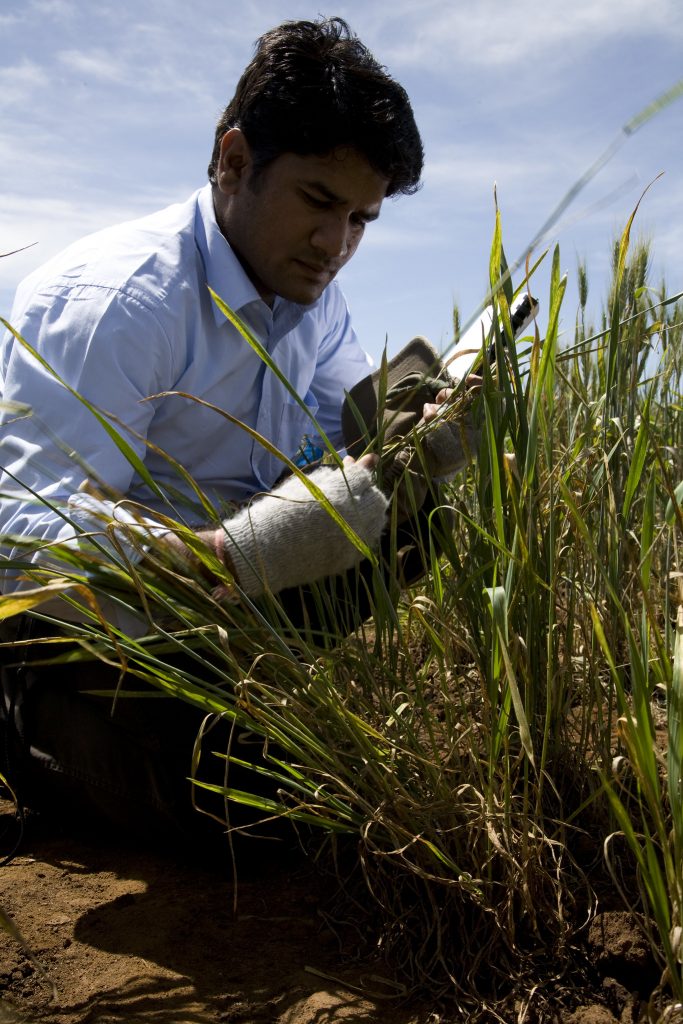 Q: Where do you see your field of research 20 years from now? Where do you see the global rust situation 20 years from now? What are you concerned about or optimistic about?
A: I am optimistic that recent advances in sequencing-annotated wheat reference genomes and detailed analyses of gene content among sub-genomes will accelerate our understanding of bread wheat genetics. Wheat breeders can now use this information to identify agronomic traits, like grain quality, yield, abiotic stress tolerance and disease resistance.
Furthermore, the global rust monitoring and surveillance network has helped to understand pathogenic diversity in different geographies and possible migration patterns; and develop early forecasts and warning measures in risk-prone areas. These tools enable breeders to stay ahead of the race, and pre-emptive breeding helps them prepare for incursion of new races.
One of my bigger concerns is the "yield is king" mindset in developed countries. High-yielding but rust-susceptible varieties are being promoted with the view that the yield benefit will compensate for the cost of fungicides in disease years. Since this notion is also being promoted in developing countries, a major epidemic–coupled with fungicide supply shortages–can lead to disasters that will seriously impact smallholder farmers.
---
Q: Do you see the coming reform of CGIAR as having an impact on rust screening and resistance research? Do you have a message for funders and/or those who are setting the One CGIAR research agenda?
A: Disease and pest resistance for crops, livestock, fisheries and forestry should be high on the agenda. We have witnessed significant impact of pest and pathogen resurgence in the last decade, beyond rust races. The variability and constant evolution of pests puts extreme pressure on breeders and researchers to be constantly vigilant against the emergence of new races, biotypes or strains.
Several threats have been effectively mitigated through global collaboration for surveillance and breeding. This facilitates screening and selection at hot spot sites and accelerates varietal release and adoption. Information-sharing partnerships to detect changes in virulence patterns would greatly reduce the need for fungicide and promote greater stability and sustainability of yield across agricultural environments.
A multidisciplinary approach involving pathologists, breeders, geneticists, physiologists, agronomists, simulation specialists and upstream bioinformaticians at different stages of research and development will be necessary to develop improved cultivars with stable and durable resistance to pests and diseases.
View Sridhar Bhavani's full BGRI Workshop Presentation, "A Decade of Stem Rust Phenotyping Network: Opportunities, Challenges and Way Forward"
---
---
Related tags