Global science team rescues rare wheat seed from the Fertile Crescent
By Katie Lutz/CIMMYT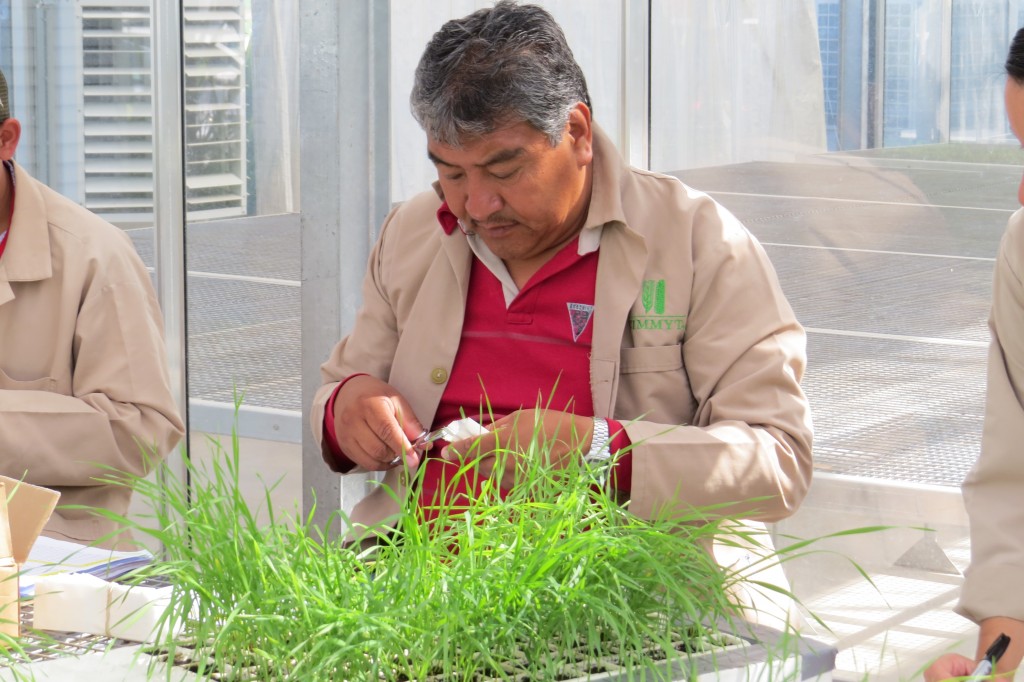 EL BATAN, Mexico(February 23, 2016)- With Syria torn apart by civil war, a team of scientists in Mexico and Morocco are rushing to save a vital sample of wheat's ancient and massive genetic diversity, sealed in seed collections of an international research center formerly based in Aleppo, but forced to leave during 2012-13.
The researchers are restoring and genetically characterizing more than 30,000 unique seed collections of wheat from the Syrian genebank of the International Center for Agricultural Research in the Dry Areas (ICARDA), which has relocated its headquarters to Beirut, Lebanon, and backed up its 150,000 collections of barley, fava bean, lentil, and wheat seed with partners and in the Global Seed Vault at Svalbard, Norway.
In March 2015, scientists at ICARDA were awarded The Gregor Mendel Foundation Innovation Prize for their courage in securing and preserving their seed collections at Svalbard, by continuing work and keeping the genebank operational in Syria even amidst war.
"With war raging in Syria, this project is incredibly important," said Carolina Sansaloni, genotyping and DNA sequencing specialist at the Mexico-based International Maize and Wheat Improvement Center (CIMMYT), which is leading work to analyze the samples and locate genes for breeding high-yield, climate resilient wheats. "It would be amazing if we could be just a small part of reintroducing varieties that have been lost in war-torn regions."
Treasure from wheat's cradle to feed the future
Much of wheat seed comes from the Fertile Crescent, a region whose early nations developed and depended on wheat as the vital grain of their civilizations. The collections could hold the key for future breeding to feed an expanding world population, according to Sansaloni.
"An ancient variety bred over time could contain a gene for resistance to a deadly wheat disease or for tolerance to climate change effects like heat and drought, which are expected to become more severe in developing countries where smallholder farmers and their families depend on wheat," she explained.
Cross-region partners, global benefits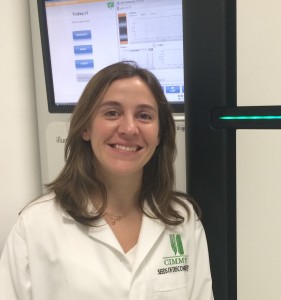 Sansaloni's team has been sequencing DNA from as many as 2,000 seed samples a week, as well as deriving molecular markers for breeder- and farmer-valued traits, such as disease resistance, drought or heat tolerance and
qualities that contribute to higher yields and grain quality.
They are using a high-end DNA sequencing system located at the Genetic Analysis Service for Agriculture (SAGA), a partnership between CIMMYT and Mexico's Secretariat of Agriculture, Livestock, Rural Development, Fisheries and Food (SAGARPA), and with the support of a private company from Australia, Diversity Arrays Technology (DArT).
The sequencer at SAGA can read 1600 samples of seed at once and develops more data than ever before. The HiSeq 2500 boils down data and shows the information at a "sequence level", for example, height variations among wheat varieties.
Worldwide, there are few other machines that produce this kind of data and most are owned by private companies, explained Sansaloni. This was the first non-Latin American based project used by the HiSeq 2500 at CIMMYT.
"The success of this project shows what a fantastic opportunity for international collaboration we now have," Sansaloni said. "I can't even put a value on the importance of the data we have collected from this project. It's priceless."
After data has been collected, seed samples will be "regenerated" by ICARDA and CIMMYT. That is, the process of restoring old seed samples with healthy new seeds.
ICARDA and CIMMYT will share seed and data from the project and make these results available worldwide.
"With these new seeds, we hope to reconstruct ICARDA's active and base collection of seeds over the next five years in new genebank facilities in Lebanon and Morocco," said Fawzy Nawar, senior genebank documentation specialist, ICARDA.
Funded through the CGIAR Research Program on Wheat, the effort benefits both of the international centers, as well as wheat breeding programs worldwide, said Tom Payne, head of CIMMYT's Wheat Germplasm Bank. "ICARDA is in a difficult situation, with a lack of easy access to their seeds and no facilities to perform genotyping," he explained. "This was the perfect opportunity to collaborate."
Since the 1990s, CIMMYT has been holding onto sealed boxes of ICARDA's seed collection, referred to as blackboxes. After nearly 20 years, CIMMYT was granted permission to open the blackboxes to discover the potential being held inside.
The first step the team at CIMMYT followed was to transfer seeds to new envelopes.
The remaining five seeds were planted in plotters at the greenhouse, spike and all.After nearly 20 years, CIMMYT was granted permission to open the blackboxes to discover the potential being held inside.
"There was a fear that after sitting in the blackboxes for 20 years, the seeds would not grow," said Sansaloni.
According to Sansaloni, the percent of seeds that were infertile was less than two percent.
Once the wheat has fully developed, the plants are harvested.
After samples are collected, they are sent to the lab.
In the laboratory, DNA is extracted and prepared to move to the sequencer for genotyping.
"When we began the project, SAGA was based in Jalisco and the transportation time was factored into the process," said Sansaloni.
"SAGA was relocated to CIMMYT headquarters in 2015," explained Sansaloni. "We were able to integrate with the scientific community at CIMMYT, making our communication and workflow more efficient."
The HiSeq 2500 will translate the genetic materials into molecular markers, generating more than 100,000 markers.
Molecular markers, also referred to as genetic markers, are fragments of DNA used to identify a specific sequence in an unknown genepool.
The final step is to analyze and collect the data from the HiSeq 2500.
Photos by: Carolina Sansaloni/CIMMYT
---
Related tags