By Katie Lutz/CIMMYT
CIUDAD OBREGON, Mexico (March 11, 2016)- An agreement formalizing an international partnership to increase wheat yields by 50 percent by 2034 was signed 1 January 2016. The agreement states that after years of planning and collaboration, the International Wheat Yield Partnership (IWYP) research will be hosted at The Norman E. Borlaug Experimental Station (CENEB) in Obregon, Mexico for an indefinite period of time.
Originally announced at The Borlaug Summit in March 2014, IWYP will address issues concerning the widespread demand for wheat.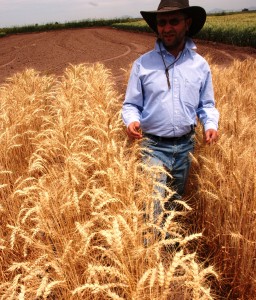 The partnership was agreed upon by Agriculture and Agri-Food Canada (AAFC), Biotechnology and Biological Sciences Research Council (BBSRC), International Maize and Wheat Improvement Center (CIMMYT), Grains Research Development Corporation (GRDC), Institut National de la Recherche Agronomique (INRA), Syngenta Foundation for Sustainable Agriculture (SFSA), United States Agency for International Development (USAID) and United States Department of Agriculture – Agricultural Research Service (USDA-ARS) to officially declare a global commitment to increase wheat yields in early January 2016.
With the world's population estimated to reach 9.5 billion by 2050, the World Bank estimates that global wheat production must increase by 60 percent to meet this rising demand. Farmers will be forced to increase wheat production with limited resources, such as lack of access to water, nutrient-rich land and the omnipresent threat of climate change.Under the Wheat Initiative, IWYP will function as a hub for new discoveries and research, and their introduction into farmer's wheat fields in developed and developing nations across the globe.
IWYP represents a long-term commitment to food security of public and private research organizations across the globe. In the first five years, partners aim to invest up to $100 million to research projects focused on raising the yield potential of wheat.
This year, sub-grants from IWYP partners have already been awarded to a number of highly prestigious academic institutions and research organizations worldwide, including researchers at CIMMYT, University of Buenos Aires, University of California, Davis, John Innes Centre UK, Australian Genomics Centre and several others.
"We have been trying to get yield potential back on the research agenda for nearly 20 years. Now, with wheat being of global importance to food security, finally with IWYP we can put actions to words," said CIMMYT wheat physiologist," Matthew Reynolds.
For more information on The International Wheat Yield Partnership visit the website at iwyp.org.